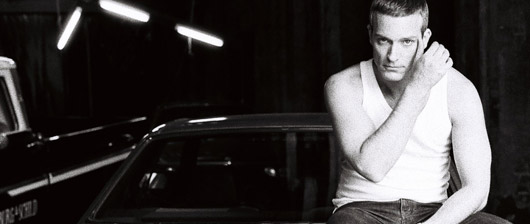 A lot is said about Berghain. The venue, located in an old power station on the divide between Berlin's Kreuzberg and Friedrichshain districts (hence the name), takes on an aura of mystery and intrigue unlike any other club. The stories of what goes on within those cavernous walls on any given weekend are stuff of legend. From the door policy to the artwork to the infamous dark room – each aspect of the club (and it's upstairs house-friendly sibling, Panoramabar) is cause for much discussion. Integral to the club's unrivaled reputation though, is the music. Each resident DJ is given time – and trust – to cultivate their own sets and sound. The policy has paid dividends – not least with the rise in reputation of Ben Klock, who has become one of the most recognisable faces of Berghain. Klock has fine tuned his own unique sound – hard edged techno mixed with a house sensibility – that perfectly fits his austere surroundings. We spoke with Ben via email to discuss the upcoming Berghain 04 compilation, his early days as a drum and bass DJ and sampling egg slicers on his childhood productions.
I read somewhere that you are a classically trained pianist – how do you think that affects your approach to DJing and electronic music?
I took classical piano lessons when I was young but was always better in improvisation rather than playing from notes. I used to come home from school, sit down at the piano for two hours or so and just play improvisations to relieve stress. There was even a time when I wanted to study jazz piano at university, but eight hours of practicing per day made me lose my interest in trying to be perfect on one instrument. I realized that I was more interested in new sounds, electronic sounds and composing in the sense of being able to use every sound that I wanted to. That really got me into electronic music – there is way more room for all kinds of ideas. I don't think my classical training still affects my music now very much. I worked hard on losing all those classical and jazzy influences, because that's not what interests me in electronic music, to play a solo or something like that. It's a totally different approach, it's more about atmospherics and repetitiveness than music in a classical way. You could say that I always look for some soul, some human touch in the music even when it's hard machine techno. Having said that, I think that it's not a bad thing to be able to play the piano – it just helps you find the chords or notes that you have in your head more easily.
What other experiences led you towards electronic music?
One other thing that I did at a very early stage was record mixtapes from the radio and also record my own early 'compositions' with two tapedecks and a self-made mixer from my brother. I had a little Casio keyboard, a microphone and used every weird object that I could find as drums and an egg slicer for making weird sounds. So I was already making my first multi track recordings when I was a child. I remember this one track I made, I taped a radio show about the Second World War. I don't think I even really understood what they were talking about. I just chopped up the words and repeated them over and over again, you know this kind of stutter effect and put that on my music. Then later there was this "Nineteen" song by Paul Hardcastle on the radio, which went "nine-nine-nine-nineteen". It was also about war and it also used the stutter effect that I invented! I was so angry!
At what stage did you decide you wanted to get into DJing and production?
I was playing piano and guitar, I was writing songs and listening to all kinds of music, rock, pop, funk, everything, but I was not really satisfied, I was looking for something new, for a new sound design in music. And of course I started to go out to clubs more often. I remember when I listened to Goldie's "Inner City Life" for the first time. That blew my mind. I thought this was really something completely new. I started as a DJ playing drum & bass, but only for a few months. In the end I found house and techno to be more powerful, timeless and fun.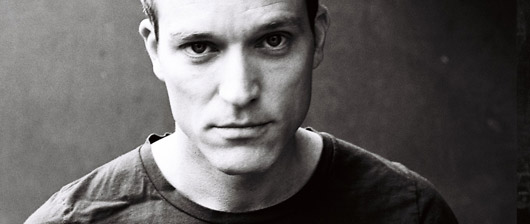 How did the residency at Berghain come about, and how has it impacted upon you as a person, a DJ and a producer? Are there negatives and positives?
There is no negative aspect I can see. The first night that I played at Berghain was simply one of the most important nights in my life in terms of the impact that it had on my future. I was looking for a new place to play regularly at that time and Berghain was basically the only place I could really think of. It was actually a dream come true to play there. And it had a big impact on me as a DJ and as a producer. I think the special vibe of the club, the sound, the concrete is just part of my music. But I also see it the other way round, not only does Berghain influence me, but myself and the other DJs playing there have an impact on the club. The vision comes from both directions. I think what surrounds you is a reflection of what is inside you. So when there is something outside that has a great impact on you it can only have that influence when you're resonating to it, when you're open to it. Then it triggers something inside you that has already been there before.
"I think the flirt between dubstep and techno is really refreshing. I like the atmosphere of some dubstep, I like to listen to it in the car. And I think it's great that artists from both genres are exchanging their ideas, inspiring each other. But in the end I'm definitely a techno guy"
Let's talk about the upcoming Berghain 04 mix. How did you go about putting it together, and how long did it take?
I wanted to play around with as many unreleased and exclusive tracks as possible. That was my idea and also my challenge. I wanted to have fresh music for my ears. As the internet is full of free DJ sets, live recordings and all that, a mix CD should have a bit more to offer than the usual podcast you can download for free. So I got in touch with many artists and friends – it was a lot of coordinating, listening and choosing tracks. I was very picky and it took a few months to get the right tracks together that reflect my style.
I think a lot of people are interested in how you will translate your DJ sets into a CD mix format. How does the flow and overall sound of Berghain 04 compare to one of your DJ sets?
If you take an eight hour Berghain set for example, I would never succeed in trying to translate that into a 70 minute mix. But the CD covers a lot of the directions that I go: A bit of house flavor, a bit of dubstep and of course techno. In a club set I sometimes play much harder and more straightforward compared to the CD. But I didn't want my CD to stress out the listeners. Besides featuring all the new music it was important to me to also include a personal all time favorite classic (Tyree's "Nuthin Wrong"). This is an important thing in my sets in general, to always switch between brand new tracks and classic techno.
The track "Goldrush" from your album seemed to have a definite dubstep influence. Do you listen to much dubstep and what are your thoughts on the relationship between techno and dubstep?
I think the flirt between dubstep and techno is really refreshing. I like the atmosphere of some dubstep, I like to listen to it in the car. And I think it's great that artists from both genres are exchanging their ideas, inspiring each other. But in the end I'm definitely a techno guy.
What are you working on at the moment, production-wise?
I'm working on tracks for the Ostgut Ton 5 year anniversary compilation that will be released later this year. Besides that I'm working on some remixes again.
"You could say that I always look for some soul, some human touch in the music even when it's hard machine techno"
How is everything going with your label, Klockworks? How much involvement do you have in the day-to-day running of the label, and what releases have you got coming up?
I'm taking it easy with Klockworks. There is no strict release plan, as you might have noticed. Right now there is nothing finished yet but I'm planning to put out two or three releases this year, there's definitely something coming up from DVS1 again.
What kind of music do you listen to in your spare time, and what other artists are you digging at the moment?
At the moment I'm actually listening to Shackleton's remix of Modeselektor's "Rusty Nails", I love that remix. I actually don't listen to music much at the moment because I'm permanently surrounded by music, producing or DJing, so I love silence sometimes. Other artists: I really like the new NY sound like DJ Qu and Levon Vincent. Plus my man DVS1 from Minneapolis.
What does the future hold for Ben Klock?
A lot! Inspiring people and inspiring moments. Because inspiration is what an artist, what everyone really needs. And if I can inspire a few people then I'm happy.
Interview: Aaron Coultate              Pictures: Sven Marquardt