Juno Podcast: Drum & Bass 7 (BCee)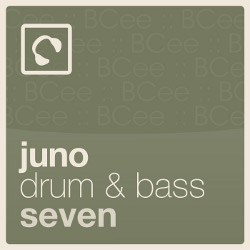 Our man BCee is back with the seventh instalment of Juno's drum and bass podcast.
You can subscribe to the mix in iTunes here, buy the individual tracks from Juno Download here or stream the mix for free via the Soundcloud player below. Enjoy!
Juno Drum & Bass 7 mixed by BCee – click "buy on juno" for full tracklisting by junodownload.com
Tracklisting:
1. Total Science: Redlines (feat Riya) – Critical Music
2. Xample & Lomax: Remember – Ram Records
3. Jubei feat D-Bridge: Patience – Metalheadz
4. Artificial Intelligence feat DRS: Blinds Eye (feat DRS) – V Recordings
5. Kabuki feat Jenna G: Just Hold On (Serum remix) – V Recordings
6. Camo & Krooked: Time is Ticking Away feat Shaz Sparks – Beta Recordings
7. Blame feat Ruff Sqwad: On My Own – New State
8. Nu:Tone: Hyper Hyper – Hospital Records
9. Burbs: Alone – Jerona Fruits
10. Sub Focus feat Coco: Splash – Ram Records