Interview: Hieroglyphic Being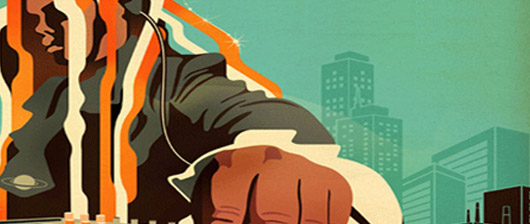 Jamal Moss freely admits he has never been in the now or the know. The Chicago based producer has been making singular house and techno under a range of aliases – most notably as Hieroglyphic Being, IAMTHATIAM, and the Sun God – for well over a decade. The nature of his work, often complex and experimental, may have prevented mainstream recognition but has earned him a cult status in the underground. And his beloved Mathematics label, first launched in 1996 but only truly prolific in the past five years, has provided the perfect platform for Moss to launch his sound on inquisitive ears. And it's that sound, borne of a tough, lonely upbringing, instilled with the DIY ethos, and gritty yet strangely beautiful, that sums up the man himself. His approach to music – and life – is at once complex and simple, full of wonderful contradictions. A man neither in the now or the know, indeed, but Jamal Moss wouldn't have it any other way.
Tell us a bit about your upbringing – how did growing up in Chicago influence your music?
Well, my upbringing was one dominated by a strong feeling of disconnection and non assimilation, mainly due to factors that were out of my control. I think this allowed me to become very observant and absorptive from a watchers' perspective, you know, as an outsider. It was like watching life in motion from high above, looking at life through a microscope. I was more of  a recluse from those around me – family, schoolmates, neighbours – and I escaped through science fiction. Writers like Ray Bradbury, Jules Verne, Ja Rogers, Kōbō Abe, and H.G.Wells were a big influence. I'd also listen to radio stations like WKKC, NPR, WNUA and WBMX, and also my parents' vinyl collection, which was full of Bluenote jazz, classical, free jazz, New Age, stuff like that. I could probably go on and on, but it would let me vanity show through … and we have enough of that thrown around these days already (laughs). I'm just glad that my artistic and cultural experiences growing up in Chicago saved me from a much darker existence. For that I am grateful and I try to convey these experiences sonically, through my experimental compositions, by paying tribute to the ones who came before me, the people who inspired me.
Your style is so distinctive – what factors do you think contributed to your gritty, DIY style?
The style is so distinctive because I'm not the 'it' guy, the centre of the universe. I'm not part of the in-crowd, in the now or the know, I'm just not that tragically hip, never have been! I think that has greatly contributed to my gritty/DIY aesthetic or style. Nobody, be it labels, cliques, producers, promoters, clubs, DJs or whatever, were really accepting of what I was about sonically. So I learned to channel the experiences from my youth into my adult career. I learned how to switch negatives into positives, and get the maximum efficiency from everything I do. Having a strong mind, a strong spirit and a strong creative concept has been my real production process. It's never just about the machines or software. After all, which came first, the machines or the humans?
Do you still have the same passion for music today as when you first started out?
I have a passion about having a purpose in life, doing my part and adding to the world in a positive manner. Passion can be calibrated but never drained.
"I'm just glad that my artistic and cultural experiences growing up in Chicago saved me from a much darker existence"
From where your career is at now, do you have any regrets?
The only regrets I hold are not trying harder and not being better at what I do; I manifested 33% of my potential. I need to reprogram myself to beyond the percentile!
How is everything going with your label, Mathematics Recordings? How much involvement do you have in the day-to-day running of the label?
It's going well. The brand itself will always do well because its grand design is universal, and it was structured from a non-conformist ideology.  In terms of the day to day, it's about 50/50. I do a lot of the A & R and concepts at this point, while groovedis.com handles the industry operations to keep the label valid globally. I find that every day is a learning curve: the balancing act of keeping everyone involved content and feeling respected is the true challenge. Then there's the challenge of procuring talent that will appeal to the masses, and figuring out the science of making the non DJ/clubber get into what we are about.
A lot of people are really feeling the original Chicago house sound, and plenty of young producers try to replicate it…what do you think about that?
Sonically you can duplicate it but not musically replicate it.  The era, the experience, the moment, the climate of vibrations has shifted into a whole different construct for the younger producers. If you truly feel what you do and do what you truly feel and it's pure, then that's fine, but if it's a fad over homage then don't do it. I'd say only three percent of the planet even knows about Chicago or Detroit's contribution to electronic music, and if it's done right the number will only grow. If it's done the wrong way, the rest will never want to know.
"If you truly feel what you do and do what you truly feel and it's pure, then that's fine, but if it's a fad over homage then don't do it"
What other artists are you really feeling at the moment?
At the moment I'm feeling real musicians, be it either classical, ambient, industrial, free jazz, vocalists, coral or experimental instrumentation. Basically, people who actually studied music theory and composition/notation, because they are the ones I need to learn from.
What does the future hold for Jamal Moss?
Freeing myself and letting go a bit, and continuing to evolve and mature as an experimental composer and being.
Hieroglyphic Being artwork: http://prop4g4nd4.blogspot.com/
To celebrate the arrival of the Mathematics Recordings back catalogue on Juno Download, we've got two free tracks to give away, namely "The Temple of Moon" and "Other Side Of Time". Check them out now!