DJ & Studio Equipment: Pioneer CDJ-900 review
The new CDJ-900 multi-format player from Pioneer is the younger sibling to the CDJ-2000, but can it compete with its feature rich elder brother? Ben Daly takes a look.
Appearance wise, the CDJ-900 has many similarities with the CDJ-2000, sharing its slick shiny, matt plastic casing and retro, blocky appearance. The CDJ-900 is slightly smaller than the CDJ-2000 but only by a couple of centimetres in width, length and height.
The CDJ-900's screen is noticeably smaller than the CDJ-2000 but not to the point where it's a burden. The CDJ-900's screen is angled making it easier to read but isn't full colour like the 2000's. This is a minor issue though and doesn't affect performance whatsoever.
As with the CDJ-2000, the CDJ-900's buttons, switches, rotary knobs and tempo fader all have that solid, reassuring feel that we've come to expect from Pioneer, as does their acclaimed Jog Dial, which really does separate Pioneer from the competition by a long way. The CDJ-900's Jog Dial or Rotary Selector aren't illuminated (like the CDJ-2000's) but that doesn't affect usability or performance and if anything, the CDJ-2000 just looks better in the dark!
Like the CDJ-2000, the CDJ-900 wasn't able to play, or even recognise, FLAC files which may be a concern for users of this format but shouldn't bother others. It does however, play most other audio file types (MP3, AAC, WAV & AIFF) via CD and USB memory devices. Unlike the CDJ-2000, the CDJ-900 doesn't play audio from DVD discs or have an SD card slot.
As the CDJ-900 is a more stripped down performance orientated player compared to the CDJ-2000, it is lacking some of the features of its elder brother. The absent features are a tempo reset button, a jog adjust knob (to change the feel of the jog dial from light to heavy), a disc eject lock switch, a loop cutter button, hot cue buttons, an SD card slot, DVD support and a Needle Search/Needle Drop ribbon. On top of that, the CDJ-900 only has one Vinyl Speed Adjust rotary knob instead of the two that the CDJ-2000 has.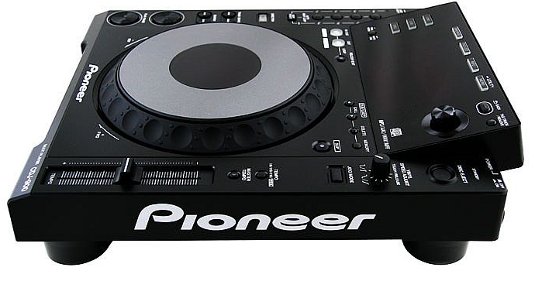 Although some features have been omitted, Pioneer added a Slip Mode and Advanced Auto Beat Loop exclusively to the CDJ-900. The slip mode is a very nifty useful feature that when activated, silently continues song playback during a loop, reverse or scratch and continues audible playback at the exact time when the user ends the loop, reverse or scratch. This creates smooth transitions and makes for fun and creative DJing. The Advanced Auto Beat Loop of the CDJ-900 generates a four-beat loop at a touch of a button, which creates a customized sound and allows even more manipulation of the track playing. These two features exclusive to the CDJ-900 make it stand apart from the CDJ-2000 and make it much more than just a stripped down 2000.
The CDJ-900 also functions as a MIDI controller (connected via USB socket on the rear) for native control of DVS (digital vinyl systems) or to control other MIDI parameters in software that can send & receive MIDI data via USB.
Using a regular LAN cable (provided), the Pro DJ Link feature of the CDJ-900 (2-4 players can be connected together to load tracks from only one device to all of them) worked incredibly well and was very simple and straightforward to setup. Connecting a USB device to one of the players and loading the same track to both players, posed no problems whatsoever.
The CDJ-900 also ships with the new Rekordbox music database management software, which Pioneer developed in conjunction with Mixvibes. Rekordbox's interface is simple, well laid out & rather stylish. After importing your music collection into Rekordbox, Loop Points & Hot Cues (up to three) can be created, deleted, edited & saved to a USB device or SD card for later use on the CDJ-900. This is a great way of preparing tracks prior to your set and I can see this becoming popular with DJ's who are keen to exploit all the creative possibilities of the CDJ-900.
The CDJ-900 is a remarkable product that doesn't deserve to be overshadowed by the CDJ-2000, and it goes a long way to cementing Pioneer's position at the top of the DJ CD player market. It's also worth bearing in mind that buying a pair of CDJ-900's over a pair of CDJ-2000's will save you almost £1000, which definitely swings in the CDJ-900's favour.
Review: Ben Daly