Guest Blog – Hobo (Minus)
Guest Blog: Hobo (Minus) – "Rulez of the Road" – Pt 3
In the last post it was Manchester's cavernous Warehouse Project; this time it's Amsterdam. Techno producer Hobo continues his guest blog with one of his biggest shows of 2009.

Some weekends involve some real high moments and some weekends are kind of flat and not as special as they could be, but there are rarely real low and disappointing moments. This weekend was going to be one full of real highs contrasted by real lows, and I'm not sure that anyone could have been prepared for some of it.
I woke up in Berlin with an odd feeling, the morning Jeremy (JPLS) and I headed to Amsterdam for the big Minus show at ADE (Amsterdam Dance Event). At first I thought that maybe my body was warning me, or preparing me for what I was in for, or perhaps I was getting sick. I wouldn't know until I got out of bed and stood up. My body was simply not ready for it. I was about as sick as you can get with a massive cold virus invading my head and chest. I was disappointed and could barely muster the strength together to go to Amsterdam, but I did anyway, which definitely went against my better judgement, as far as my body was considered.
"The crowd was quickly filtering in and filling up, and the venue looked huge when it was full of people. Huge crowd plus huge sound plus huge lineup always equals a great time"
Jeremy and I got to the airport and breezed through security. In no time we were on the flight and discussing all sorts of creative topics, plans and ideas. Again, it's always great when you get to travel with a friend. We arrived in Amsterdam where it was much nicer than Berlin, weather-wise. We arrived early enough that we were able to go into the city and take in Amsterdam a bit before having to get down to work. The city was nice and at night, a foggy haze lowered over giving it a very mysterious look. In my opinion, it was the best way to see Amsterdam. Though I imagine Amsterdam appears as a haze to many people as they leave. Later, at the hotel I decided that with such a special event coming up, that it would be a good idea to reorganize my set. This week, unlike last, I was careful enough to finish what I started, and in a quick forty minutes, I had completely rebuilt my set from the ground up, just in time to head out for dinner with the Minus gang.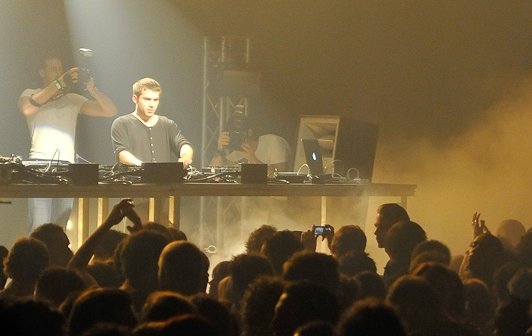 There were a small handful of us who were at the restaurant and we passed the time by catching up, and having some laughs for a while. And then a while longer. And then a while longer. I was getting really hungry and began looking over my shoulder to see if the food was coming. It never was. We had already been there for a long time when I asked a waitress if our orders made it in alright. She told me she'd go find out and then come tell me. She never came back. About thirty minutes later, we had to go. It was too be a busy night and we had to stick the schedule. This was a problem for me. I was sick and hungry, and I've learned before that it's not easy getting through a long night on an empty stomach.
When we got to Powerzone, I was excited. The crowd was quickly filtering in and filling up, and the venue looked huge when it was full of people. Huge crowd plus huge sound plus huge lineup always equals a great time. I was playing at 3am and the lineup in both the rooms worked out in such a way that I could see everyone. Kevin (Ambivalent) was playing top notch tunes on the main stage, while Fabrizio was jamming out in the second room. I was back and forth and never disappointed. Next on the main stage was Barem. Now, earlier in the day at soundcheck, Barem and I had a friendly argument about bringing the cables you need, to every gig.
His argument was that you should always bring them because they take up no space, and it's quicker and easier to set up when you arrive at venues, and you're always guaranteed to have them. They were all good points and I didn't disagree with any of them. My argument, however, was that if you put cables in your technical rider, then that's one thing you don't have to bring that'll be provided for you when you arrive. A technical rider is a document that goes out to promoters before you arrive that say what all you will be needing from a technical standpoint. Usually it includes things like a mixer, monitors, the amount of table space you're going to need to set up, and how to have it set up upon your arrival.
Mine was a more stubborn standpoint, but valid unto itself. After all, I never bring a mixer or monitors with me, though Barem was right. So Barem and I agreed, after a friendly back-and-forth, that the day that I was screwed by not bringing my cables, was the day he could rub it in and laugh all he wanted and that I'd let him. But cables and technical riders were all out of my mind as I watched Barem feeding the crowd from the palm of his hand. I was up next. It was a great set for me. What I had rearranged very quickly in the hotel room was just right and I had a great time playing. The huge tracks came out for the huge crowd, and they were loving it. I could not have been happier when my set ended.
Magda was up next, but her Traktor was having some problems, so I ended up playing for about fifteen minutes extra. I wasn't disappointed, since playing as long as you can in front of a killer crowd is always nice but, I was missing out on Jeremy who I really wanted to see playing. Finally, Magda's gear was up and running, and so was I, to catch the last fifteen minutes of Jeremy's set. I made it just in time to hear him closing it out to a packed audience in a way that only he can. I only got a short taste, but it was amazing.
We were all in party mode now and it seemed that everyone from Berlin was there, now dancing and hanging out as Kevin took over and began his second set of the night. He could not have been more on point and for the next few hours he barraged a packed house with some great tunes. This night was becoming a real highlight of the year. I dipped in and out of the rooms, and it seemed that there were old friends and new, in every corner of the venue.
"A few of us, myself included had some of our clothes torn clean off. Let's just say it was out of control"
By the time Kevin finished, Richie Hawtin was going on in full force on the main stage. It was nuts and everyone was cramming onto the stage to take it all in. By the time Rich was finishing, everyone in the building was partying hard. I think that each performer took the party and the energy up a notch when they played, and it was at its absolute peak. It was utter pandemonium on the stage – but in a good way. Lots of friends all together with the backdrop of a wild audience and amazing tunes meant havoc. What seemed like an eternity of nothing but good memories, ended and we were all pretty much still in one piece. Though a few of us, myself included had some of our clothes torn clean off. Let's just say it was out of control! But again, in a good way. For me, Minus at ADE was the party of the year.
The next day, I came to, face down on my bed in the hotel room. Minutes later, Jeremy asked me what time my flight was at and when I went to respond, no sound came out. My voice was completely gone. I'd lost my voice before, but this was unlike I had ever experienced. It felt like someone had cut my throat clean out and I could not make even a sound.
As I cleaned up and showered, I slowly warmed up my vocal chords enough to make a squeeky, airy sound that I could shape into words, but it hurt to do, and sounded terrible. It was time for me to head to the airport to meet Magda as we were headed to Bucharest for our own round two.
Next week: Bucharest
ADE picture credits: Huybert van de Stadt