Breakbeat podcast – Richie Balboa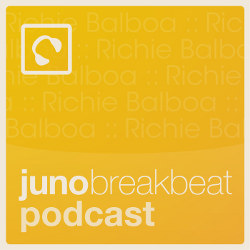 Juno Download teams up with Breakbeat's freshest talent, Richie Balboa, for a new podcast series.
In a short space of time Richie has DJ'd for some of the most prestigious names in UK club music – from Global Gathering to Raindance – taking his unique style to clubs and festivals all over the UK, America, China and Europe, resulting in a nomination in the best breakthrough DJ category at the Breakspoll international breakbeat awards 2009.
Manager of NSB Radio since 2007, he helped it win the Breakspoll best radio station award 2008 and 2009, and has taken it to be the first and only completely live breakbeat radio station bringing in DJs from Canada, North and South America, South Korea, Japan, Australasia, India, Central and Eastern Europe, Russia as well as its home of the UK.
For his first Juno Download podcast he mixes up High Ranking, Baymount Bros feat Benzo, Mesmer, Generic Bass, Big Bang Breaks & more…
Subscribe for free in iTunes here and buy all tracks here.
Tracklist:
1. Big Bang Breaks – Save Us All
2. Baymont Bross feat. Benzo – Faster Pussycat
3. Dis E – Dirty Cash
4. Downtime – Little Bit Closer (Crackerz & Jam remix)
5. Taishan feat. MC Kemon – Moving On
6. Breakzhead vs Dandyskillz – Religion
7. Davip – Robots
8. High Ranking – Sitting in the Wet
9. Mesmer – Fine Wide Spread
10. Generic Bass – Mass Confusion
11. Ed Solo – Egyptian Horns (Amen VIP mix)