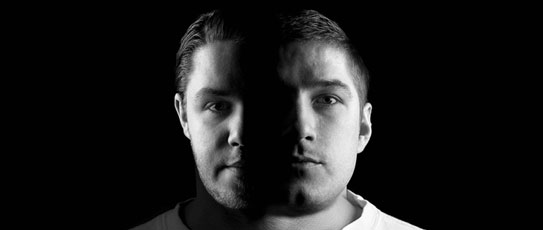 Interview: Hugg & Pepp
Sweden is a hotbed for quality techno producers: the likes of Adam Beyer, Tomas Andersson and Hakan Lidbo all reside in Stockholm. Add to that list the Dahlback cousins Jesper and John, who (on special occasions) join forces to become Hugg & Pepp, combining a quirky sense of humour with a penchant for banging techno. After releasing material on Dahlback Records they were snapped up by Tiga's fashionable imprint Turbo, with the Sweet Rosie EP proving a huge hit on European dance floors. They spoke to JunoPlus editor Aaron Coultate…
Who is Hugg and who is Pepp?
Jesper: John is Hugg and I am Pepp. "Pepp" comes out of Jesper's nickname Pepponen, while "Hugg" came from a dream John's father had the day before John was born.
Do you get many family members to your shows?
John: Every time we play in our home town, Stockholm, we usually get a bunch of relatives from different parts of the family tree.
Jesper: That's very good because then we don't have to arrange family dinners for everybody! That certainly saves us a bit of money and time.
Your early releases are very much techno, although Sweet Rosie doesn't seem as banging as your previous productions. Have you guys mellowed out a bit?
Jesper: We were actually more into deep house from the beginning but then developed a tougher sound. "Sweet Rosie" is actually a kind of hard dance beat with some weird vocals on top. Not for the average groove house music lover!
How does the dynamic between you two work when you are producing?
Jesper: It's a very complex process… Pepp puts the first kick drum, then Hugg programs the hi-hat and Pepp returns to the computer to produce the clap sound. Hugg then thinks about what he is going to do next, and usually comes up with the idea of a cowbell or a similar percussion sound. During this process Pepp is already producing a weird sound on one of his many synthesizers or making fresh espresso, depending on his mood. With a bit of luck, someone accidentally makes a great hook and the track is finished.
What are you working on at the moment, production-wise?
John: A follow-up super hit with some even weirder vocals than "Sweet Rosie".
Do you DJ as Hugg & Pepp or  just individually?
Jesper: Mostly individually but on a few very limited occasions Hugg & Pepp team up and rock the crowds.
How did you get signed to Turbo?
John: Tiga accidentally came over an early demo of "Sweet Rosie" that he played at some parties and got stuck on YouTube as a mystery track for a year. He then decided to release a special Turbo edit with remixes.
"We did some calculations and Sweden has 84 per cent of the techno producers in Europe"
Sweden seems to produce a steady stream of techno acts – you guys, Adam
Beyer, Tomas Andersson, Hakan Lidbo – is there a big techno community in
Sweden?
Jesper: That's an interesting point! We made some calculations and there is one techno producer per 1,023 capita in Sweden. That calculates 10,230 techno producers in the kingdom of Sweden. Let's say there are 12,000 techno producers in Europe, Sweden then stands for 84 per cent of the total amount of techno producers in the European Union.
Hmmm, OK. Jesper, tell me a bit about Jori Hulkkonen's Acid Symphony Orchestra. How did you get involved with that?
Jesper: When Jori asked me if I wanted to play first violin-303 in his orchestra, I just had to say yes. For me it's a dream come true to take the sound of acid into the fine saloons of the classical music. There were roughly about 2,000 TB 303's produced and we are using 10 of those in our orchestra.
How does it work exactly?
Jesper: Jori is conducting the orchestra which consists of ten musicians, each one operating a 303. Jori wrote the piece "So Run The Tears Like The Wine" especially for this setup.
"We are living the glory days with champagne and oysters from the success of Sweet Rosie"
Are there plans for any more live shows?
Jesper: The next show will be an 80 minute extended version performed in Istanbul, Turkey.

What is in store for Hugg & Pepp over the next 12 months?
John: We just played at the Amsterdam Dance Event and there are a few new releases in the pipeline. But for the most part we are living the glory days with champagne and oysters from the success of "Sweet Rosie"…
You can buy "Sweet Rosie" and many other Hugg & Pepp releases from Juno Records and Juno Download.