Today: Funky/Club House
Items 1 to 3 of 3 on page 1 of 1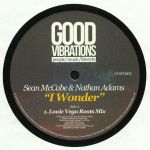 Cat: GVMV 001. Rel: 30 Apr 18
I Wonder (Louie Vega Roots mix) (10:06)

I Wonder (7:46)

I Wonder (Sean Nostalgic dub) (5:43)
Review: Sean McCabe initially launched Good Vibrations a few years ago as a regular party in Bristol, with the assistance of local soulful house legend Deli G. This 12" marks the debut of the freshly minted offshoot label and sees McCabe join forces with regular collaborator Nathan Adams. Predictably, it's another superb slice of dancefloor soul music, with Adams' impeccable vocal a snug fit with McCabe's skipping drums, sumptuous Rhodes chords and bubbly electronic bassline. Arguably even better is Louie Vega's ten-minute Roots Mix, which replaces some of McCabe's electronics with more traditional instrumentation for an even richer and warmer dancefloor experience. McCabe's Nostalgic Dub, complete with fresh paino and synth solos, is also superb.
…

Read more
Cat: FIT 004. Rel: 30 Apr 18
Part 1

Part 2
Review: ** FIT REPRESS ** Naturally for a producer who prefers to remain anonymous and call themselves A Drummer From Detroit and name their debut EP Drums, both tracks here veer into dextrously percussive house territory. Amidst the dizzying, jazz influenced rattle of Shake Shakir style rhythms that characterise the A Side workout our erstwhile protagonist weaves in desperate vocal strains and overtly dramatic piano and horn stabs which only serve to increase the panic inducing pace. The flipside treatment is slightly slower in its execution, yet increases the jazz funk melodic elements which make it the less a hectic and more involving production.
…

Read more
VARIOUS
Cat: DJODM 205. Rel: 30 Apr 18
5 Seconds Of Summer - "Want You Back" (Tritonal remix - clean)

CHVRCHES - "Get Out" (One Bit remix)

Dua Lipa - "New Rules" (KREAM remix)

Dua Lipa - "New Rules" (MRK club mix)

Duke Dumont - "Inhale" (TCTS extended mix)

Gorgon City - "Motorola" (Max Chapman remix)

Jamiroquai - "Summer Girl" (Brighton Bunker remix)

Joe Stone Vs CR3ON - "Is It Really Love" (extended)

Louisa - "Yes" (feat 2 Chainz - Zac Samuel extended)

MC Fioti - "Bum Bum Tam Tam" (Jonas Blue remix)

NOTD - "I Wanna Know" (feat Bea Miller - Syn Cole extended)

Rae Morris - "Someone Out There" (Kat Krazy remix)

RAYE - "Cigarette" (with Mabel & Stefflon Don - Danny Dove club edit)

Shires - "Guilty" (Danny Dove remix)

Sigala & Paloma Faith - "Lullaby" (Martin Jensen extended)

Silento - "Thinking About You" (Marcellus Wallace remix)
Items 1 to 3 of 3 on page 1 of 1