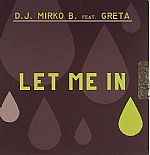 Cat: S 1134. Rel: 17 Jun 13
Let Me In (radio main version)

Let Me In (extended main version)

Let Me In (Patryck De La Roche remix)

Let Me In (Patryck De La Roche dubstep remix)

Let Me In (Patryck De La Roche Dutch remix)

Let Me In (Laiduplake remix)

Let Me In (Kape-X remix)

Let Me In (Rivell DJ remix)

Let Me In (radio main instrumental version)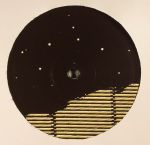 Cat: BLACKLIST 005. Rel: 16 May 16
Space Horror (5:36)

Step On Lava (3:59)
Review: Blacklist hit release number five and it's the label bossman doing what he does best: taking us down dark paths on twisted, subverted adventures we didn't even know existed. "Space Horror" bundles us into the boot of a rusty old rocket and speeds down the backstreets of Omicron Persei 8 where the drums slouch along the slimy alleys and bassline groan and fall out of dark corners. "Walk On Lava" sees us being chucked out of the spaceship from a great height into the eye of a volcano. With blistering kicks and a tense acid line, will we make it out on time or will our geese get cooked? There's only way to find out...
…

Read more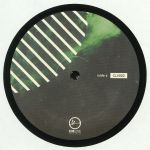 Cat: CLV 002. Rel: 30 Oct 17
Space-time (5:12)

Mist (5:32)

Spirit Of The Forces (4:37)

Space-time (TMSV remix) (4:29)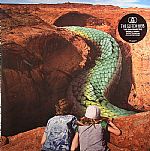 Cat: STK 003LP. Rel: 08 Sep 14
We Can Make The World Stop

Palace Og The Innocents
Review: It's been an immense year for TGM as they unleashed their long-awaited second album Love Death Immortality and toured the world with it. Here we find them taking a step back to 2011 with this between-album EP that's never been pressed to vinyl before now and shows how the trio morphed sonically and creatively from the deeper, more home-listening Drink The Sea to the Prodigy-level dancefloor slammers they have become. "We Can Make The World Stop" is a dirge-like kerb-crawling sleaze-bass stomper that's charged with thick triumphancy. "The Palace Of The Innocents" is more like their earlier material with its industrial strength hip-hop breaks, distorted arpeggiated riff and dreamy flutes. Both kill it.
…

Read more
Cat: SUBA 001. Rel: 14 Aug 17
Transmission Failure (6:41)

Fluid Foundation (6:09)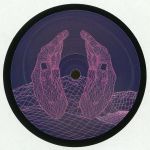 Cat: BTG 003. Rel: 09 Oct 17
Cybercity (2:11)

Corrupted Angels (4:22)

Corrupted Angels (Bulu remix) (4:36)

Graverobber (4:10)

Graverobber (TMSV remix) (4:54)

In Tha Trap (5:38)
Review: Etch & Ilk's grid-hating stable heads west to Philly for some spiritual guidance Gohda-style. Wavey, trippy and breezily cosmic, each original sucks us deep into its textures; the ebb and flow background arpeggio and rolling processed breaks and subdued melancholy on "Cybercity", the far-out 22nd century hip-hop beats of "Corrupted Angels", the weirdo squelch-ghetto creeper "Graverobber" and the crisp-beat Atlanta-bound highlight "In Tha Trap". Remix-wise TMSV takes "Graverobber" deep inside the church crypts for amplified harmonics while Bulu adds more of a left-sided club bang to "Corrupted Angels". Bang for your bucks; bun this at your peril.
…

Read more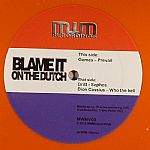 Cat: MWMV 03. Rel: 22 Oct 12
Gomes - "Prevail"

Gritt - "Sophos"

Dion Cassius - "Who The Hell"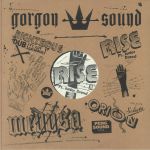 Rise
(heavyweight vinyl double 12")
Cat: PENGSOUND 003. Rel: 22 Jul 13
Rise (feat Junior Dread)

Righteous Dub (feat Guy Calhoun)

Medusa

Orion
Review: Kahn & Neek return to local hub Peng Sound for some self titled double plated dubplate action under their steppahs project Gorgon Sound, housed in a rather lovely stamped gatefold sleeve. Although primarily known for their incendiary grime bangers on their own Bandulu imprint, and the dancehall sounds of last year's Backchat single, Kahn & Neek's steppahs-influenced Gorgon Sound project is a chance for them to expand on Bristol's rich legacy of dub, reggae, and soundsystem culture. Since the pair decided to begin the project in 2010, Gorgon Sound has since evolved into a full dubplate DJ operation, with a show made up of entirely their own material. Last year saw the Gorgon Sound project see its first vinyl release, in the form of "Find Jah Way", which featured on the debut released from Bristol's Peng Sound; this double 12" release presents a more expansive take on their steppahs sound, featuring four cuts of West Country bassweight with guest vocalist spots from Brazil's Junior Dread and Bristol's Guy Calhoun.
…

Read more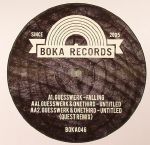 Falling (4:26)

Untitled (5:50)

Untitled (Quest remix) (4:40)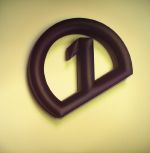 Cat: ROA 006. Rel: 18 Jul 16
RNDM - "Soulfire" (dub) (5:34)

C-Side - "Kingdom Dread" (4:44)

Ncomfortable - "One Love" (feat Talabun MC) (6:32)

Monkixx - "Kick Back" (3:51)

Kiite - "Kevala" (3:47)

Bigseuf - "BBB" (4:05)

Galactic Steppa - "Step In 2" (4:39)
Review: Following a successful Pledge Music crowd fund, Route 1 Audio have put together another heavyweight wax slab with seven of their many talented affiliates. The yellow disc opens with the deeper, sub-rumbling axis of Route 1's remit with RNDM's "Soulfire" and C-Side's "Kingdom Dread" before dipping into the punky D&B energy of Ncomfortable's "One Love". Monkixx and Kevala take us back on deeper trip with dreamy fractured takes on UKG while Bigseuf and Galactic Steppa close the show with booty-busting juke and future-retro jungle respectively. No bass stone uncovered.
…

Read more
Cat: BLACK 003. Rel: 07 Mar 16
Strict Face - "Toxic Gunner" (4:13)

Tarquin - "Back In One Piece" (3:31)

Marcx - "Ride" (5:21)

Grizzle - "Entreaty" (5:12)
Review: Bristol badness: Blacklink deliver another limited vinyl-only beat collection and every track's an under-the-counter creeper. Strict Fact takes Britney's finest and sullies it up with grimy stickiness, Tarquin does that jazz thing that sits somewhere between MJ Cole and Derrick Carter, Marcx gives Ciara the ride of her life while Grizzle closes the show on a pitched up Trey Songz wavey flex. Limited and not likely to see digital release.
…

Read more
Cat: 670616 5. Rel: 23 Oct 17
Gully Niggaz

Ultimate Gangster (feat 2 Chainz)

Straight Lifestyle

Times Tickin (feat Popcaan)

The Essence

Linguo (feat Donae'o)

Gangsta's & Dancers (feat Lil Duke & Young Thug)

Moist Pussy

50 Cali

Outsiders (feat Footsie & D Double E)

Horror Movie

Peligro (feat Dave)

Ruler
Intro

The Blow Back (feat Stormzy & Dubz)

Whippin Excursion

Just Swervin

The Process

Lock Doh (feat Donaeo)

The Best (feat Aystar & Youngs Teflon)

Slippin

501 (Hollow & Heston) (feat CasIsDead)

Of Course (feat Rico Love)

Savage (feat Kyze)

Lyrical Combat (feat Dubz & CasIsDead)

Clipped Him (feat Gunna Dee)

The New Shit
Cat: STK 002LP. Rel: 08 Sep 14
Animus Vox

Bad Wings

How To Be Eaten By A Woman

A Dream Within A Dream

Fistful Of Silence

Between Two Points (feat Swan)

We Swarm

Drive It Like You Stole It

Fortune Days

Starve The Ego, Feed The Soul