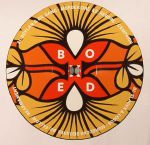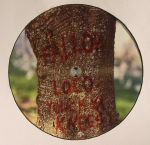 Cat: FRENZY 001. Rel: 06 Feb 17
Loco (3:58)

Touch Ya Knees (3:59)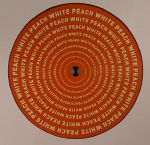 Cat: WPR 020. Rel: 01 May 17
Fallow & Alex Compton - "String Assassin" (3:49)

Kaido - "Kennedy Bridge" (4:27)

Zha - "Without" (3:47)

Nakes - "Moksha" (4:02)
Review: White Peach's admirable Peach Bits series, which draws together previously unreleased gems from the label's growing roster of artists, has reached its fifth volume. While previous volumes have largely aimed squarely at the dancefloor, this edition is more eclectic in outlook. Compare, for example, the paranoid, exotic darkness of Kaido's deep dubstep rattler "Kennedy Bridge" and the Eastern mysticism - via the Spanish Riviera - of Zha's "Without", which pairs gentle dubstep rhythms with lilting Japanese melody lines and flamenco guitar flourishes. Or, for that matter, the drowsy, post-rock-meets-dubstep haze of Fallow and Alex Compton's "String Assassin", and the blissfully exotic, almost Balearic melodies of Nakes' thrillingly positive dubstep shuffler "Moksha".
…

Read more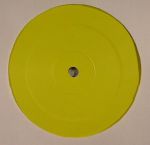 Battle For Spice
(hand-numbered 12" in hand-stamped sleeve limited to 300 copies)
Cat: BSS 002. Rel: 18 Apr 16
Fill Spectre - "Battle For Spice" (5:35)

Distinct Motive - "Krome" (5:07)
Review: Having announced this in September 2015, San Diego's Banana Stand South have eked out a dangerously long lead time on delivery on this. But, as those who've been pensively waiting will attest, the wait is worth it: Fill Spectre's "Battle For Spice" shakes with both a funky percussion and a devilish detuned bassline. Complete with a peppering of surprises and twists in the tales, this battle is of war-like proportions. Krome's "Distinct Motive" is slightly more conventional with its halftime beat but the crying bass groans that spiral further and further into paranoid chaos create a unique character. Especially when the added sub comes in at the last minute. Freaky.
…

Read more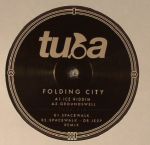 Cat: TUBA 010. Rel: 28 Mar 16
Ice Riddim (4:25)

Groundswell (4:50)

Spacewalk (4:47)

Spacewalk (Doctor Jeep remix) (4:39)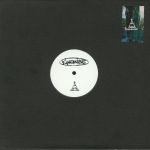 Kingwise
(hand-stamped 12" limited to 300 copies)
Cat: FLK 2. Rel: 26 Jun 17
Kingwise (5:56)

Untitled (7:33)

Flat 8 (6:35)

Version 2 (7:03)
Review: Who is this deep space stranger? Who are Folklore? What's in the water in Toulouse? Because the city is churning out some impeccable bass talents right now... And we suspect some of them are involved in this mysterious project. Each track tells a different tale in a subtly circular fashion; "Kingwise" shimmers into a light, breezy UKG-style two-step, "Untitled" cranks up on channel one with its low and slow dub techno mysticism while "Flat 8" leans back on an icy Alaska-style jungle roll-out. Finally "Version 2" takes us back over familiar chords but does so with a sublime dub beat and sense-blurring clipped synths. The music has all the answers.
…

Read more
Cat: GV 004. Rel: 15 Feb 16
Yokai (6:56)

Critical Hit (6:00)

Yokai (Fabricator remix) (6:15)

Vulpineal (Undrig remix) (5:35)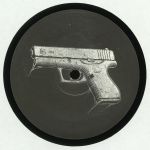 Cat: HY 002. Rel: 09 Oct 17
Jonah Freed - "Guns" (feat Rider Shafique) (4:31)

Jonah Freed - "The Marshall Plan" (feat Farsight) (3:44)

Farsight - "Septum" (5:01)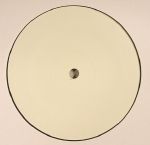 Cat: DSV 004. Rel: 13 Jun 16
Runnin' (3:06)

The Bark (4:05)

The Bark VIP (3:00)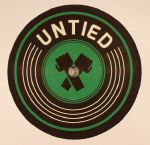 Cat: UDV 005. Rel: 25 Jul 16
Distant Horizon (5:09)

Distant Horizon (Leon Switch remix) (5:38)

Hitman (5:32)
Cat: HOS 015. Rel: 01 Mar 17
Scalade & Nights - "Stasis" (4:15)

Charlux - "Chanel Handbag" (3:32)

Fresh Paul - "Janet Again" (3:44)

J-One - "The Fever" (4:51)
Cat: SKALP 031. Rel: 22 Jun 15
Blood Soldiers (3:12)

Sect (3:09)

Hopper (2:17)

Cam (2:49)

7 Cycles (3:43)

Blackboard Jungle (3:35)

Ferm (2:51)

GBA (2:53)

Era (3:54)

T15 (3:38)

ONEFIVEOOOH (4:29)
Review: UK techno veterans Mark Broom and James Ruskin first joined forces under The Fear Ratio alias back in 2011, delivering the inventive - and hugely enjoyable - IDM-meets-techno full-length, Light Box. Several years on the pair realign as The Fear Ratio for a second album, issued somewhat surprisingly through Skam, which gleefully explores similar sonic territory, whilst throwing a few more influences - most notably experimental hip-hop and vintage electro - into the pot for good measure. The result is a hugely entertaining album that naturally doffs a cap to Skam Records' dystopian roots, as well as the heavyweight soundsystem throb of dubstep, the hypnotism of dub techno, and the crackling electronic wizardry of Autechre.
…

Read more
Cat: 577526 0. Rel: 07 Aug 17
Intro

Say No More

Billi

Cappin On The Net (interlude)

Cappin On The Net

What I Mean

Mad Ting Sad Ting

Real Ones

Call Me Again (feat Ghetts)

Avirex (feat Neutrino, Chip)

Broken N Famous

Rnot (interlude)

Rnot

Paranoid

Running Man

Way To Much (feat Skepta)

Gossip (feat Giggs)

My Size (feat Shakka)
Cat: FLOWER 007LP. Rel: 14 Dec 15
Against (feat Fade) (3:48)

Do My Thing (feat Sha One) (4:15)

Ultralight (feat Helen Tesfazghi) (3:57)

If All Listen (feat Marcello Coleman) (4:07)

Zed (feat Fade) (5:48)

A Hundred Thousand Hands (feat Ka Li) (4:23)

Mystical Redemption (5:27)

Sang' Mi (feat NTo) (4:11)

Redneck Original (5:55)

The Deadly Alpha (3:51)