Options
Sort Artist

Bestseller: Artist: Title: Brand: Date: Price:
Items 1 to 1 of 1 on page 1 of 1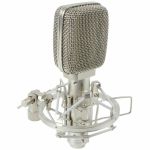 Cat: 597946 Rel: 18 Jan 16
Studio ribbon microphone designed for recording and broadcast studios
Notes: Studio ribbon microphone for recording vocals or instruments. The ribbon element operates without a plate charge or onboard preamp and so does not require phantom power.

Recordings are smooth, free from circuit noise and distortion with a wide frequency range close to that of condenser microphones. The bi-directional polar pattern can be used to combine direct and reflected sound to produce a more natural response.
…

Read more
Items 1 to 1 of 1 on page 1 of 1