Extension cables
Items 1 to 2 of 2 on page 1 of 1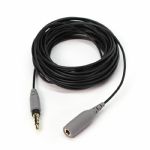 Cat: 561655 Rel: 27 Apr 15
3.5mm TRRS extension cable for SmartLav microphones
Notes: The SC1 is a premium shielded extension cable for the smartLav and smartLav+ TRRS microphones.

Measuring 6m/20', the SC1 features gold plated contacts for superior audio reproduction.
…

Read more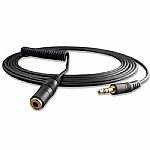 Cat: 455703 Rel: 04 Jun 12
Minijack/3.5mm stereo extension cable
Notes: The VC1 is a 3m 3.5 mm stereo audio extension cable, featuring 2 core shielding and a gold plated jack and socket.

It is ideal for use to connect the Rode VideoMic, Stereo VideoMic or VideoMic Pro when the microphone is mounted on a boompole, or away from the camera or recorder.

The VC1 can also be used as a high quality headphone extension cable.
…

Read more
Items 1 to 2 of 2 on page 1 of 1