Today: Deep Dubstep
Items 1 to 2 of 2 on page 1 of 1
Levy

Seen (4:22)

Cold Warning (4:14)
Review: It's deep down under: Headland returns to his own label with two powerful bass moments. "Seen" is a dizzying maze of elements that spring from left and right, spilling over a bassline seemingly made of pure doom. "Cold Warning" takes us down even darker paths with pranged out reverse synth textures, a slurring toxic bass texture and drums that rattle like industrial strength snakes. Heads up.
…

Read more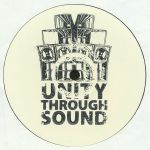 Cat: UNITY 004. Rel: 27 Nov 17
Kanuri (4:14)

Shutdown (3:29)
Review: Belgian ice king Zygos dents the Unity discog with two crucial pieces of bass weight. "Kanuri" is a powerful minimal prowler that, with the help of some subtle psycho stabs, builds into a dramatic centrepiece. Flip for "Shutdown", a track that lives up to its name with a technoid rampancy that refuses to quit as a gritty kick drives the percussive layers with edge and momentum. It doesn't get more hypnotic than this.
…

Read more
Items 1 to 2 of 2 on page 1 of 1