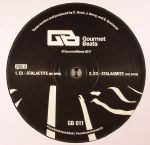 Cat: GB 011. Rel: 28 Aug 17
Stalactite (3:30)

Stalagmite (4:39)

Stalactite (Alter Echo remix) (3:15)

Stalagmite (Tetrad remix) (4:55)
Review: E3 makes his debut on Gourmet with two almighty constructions; "Stalactite" is a wave of trippily textured bass that just laps and laps over you relentlessly, pushing breath out of you with every wash. As the name suggests, "Stalagmite" has a much lower centre of gravity with a much more stern tone and restrained sense of menace. Remix-wise E3 frequent partner in grime Alter Echo switches out the bass drama for a swinging dancehall riddim and a sparse, teasing groaning bass hook while Tetrad gets his 4/4 dub on with "Stalagmite". Another fine feast.
…

Read more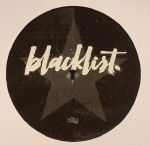 Cat: BLACKLIST 006. Rel: 24 Oct 16
I'm From The Balkans (2:05)

Psychonautilus (4:38)

Uck Foff (4:41)
Review: It's been a strong year for Balkan badman Egoless who pulled in a whole new field of ears with his insanely on-point ska cover of Benga & Coki's "Night". "I'm From The Bakans" is a great showcase of his leftfield weight. The title track is an ardent reminder that we still have heaps of room to experiment in drums and textures with rhythm combinations that sound like no other. "Psychonautilus" is powered by creepy dreams. All wonky, foggy and freaky - if Nicolas Jaar did dub, he wouldn't sound too far from this. "Uck Foff" keeps us in the dense mists as thick atmospheres are broken but a strangely shuffling beat and unpredictable mechanical bass tones. No one is doing it like Egoless.
…

Read more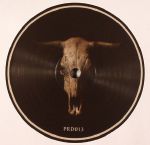 Cat: PRD 013. Rel: 17 Jul 17
GG249 Dub (5:01)

GG249 Dub (Perverse remix) (5:14)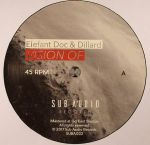 Cat: SUBA 002. Rel: 14 Aug 17
Vision Of (5:14)

4000 (4:37)
Cat: SMR 010B. Rel: 02 Apr 12
Stableface (Dark Sky remix)

Stableface (Macc remix)
Review: Bristol hub Soul Motive scored a massive coup in enlisting Punch Drunk boss Peverelist to remix "Stableface", one of the standout tracks from Clouds Of Moments, the 2010 debut set from Lithuanian experimental dubstepper Eleven Tigers. That they choose to complement it with two further remixes is tantamount to treating us, with both Dark Sky and Macc on board to further re-contextualise the cracked atmospherics. In the hands of Dark Sky, "Stableface" is twisted into a brooding dark side steppah with subtle hints of jungle pressure pervading the lower reaches, the 50 Weapons trio playfully teasing with the vocal before dropping in a bassline that can only be described as rude. On the flip, Macc showcases his enviable drumming skills with a heavily cinematic roller of a remix dominated by those rumbling, live rhythms.
…

Read more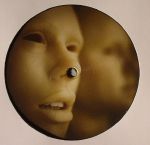 Cat: AVENUE 001. Rel: 27 Jul 15
Windmill (feat AFIYA) (5:27)

Devotion (feat Alicia Kiah) (5:11)
Review: Epoch's Egyptian Avenue goes full vinyl for the first time with two achingly touching cuts: "Windmill" is a rolling slice of barbed soul with Trentemoller-style pads, Blue Lines era breakbeats and powerful yearning vocals from Afiya. "Devotion" takes us much deeper under oceanic swathes of atmospheric pads, far-away strings and distant halftime beats. From the dance to dirge, Epoch has created something truly special here.
…

Read more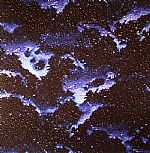 Cat: TRIANGLE 22. Rel: 31 Mar 14
Salt Carousel

Fuck Idol

Propeller

Waterfall
Review: Music from the young Joshua Leary has been sporadic since he emerged on a wave of YouTube hype at the tail end of 2011, with only the Kings and Them mixtape and this year's one-sided Duga-3release on Record Store Day, but given he received a production credit on Kanye West's Yeezus album last year his relative silence can be forgiven. As such the Waterfall EP represents perhaps Leary's first proper release, and it shows that he has come a long way since the early days of his career. Containing four tracks that bridge the gap between jungle, hip hop and ambient music, Waterfall is both delicate and savage in equal measure, especially on the closing title track, where plaintive piano and semi-automatic snares collide to thrilling effect.
…

Read more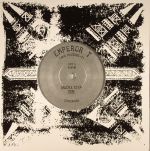 Cat: ZAMZAM 45. Rel: 24 Oct 16
Macka Step (dub) (4:02)

Mek It Run (dub) (3:54)
Cat: ES 1026V. Rel: 08 Nov 10
Speak To Me/Breathe (In The Air) (dubmatix remix)

On The Run (10 feat Ganja Plant remix)

Time (Groove Corporation remix)

The Great Gig In The Sky (dubphonic remix)

Money (The Alchemist remix)

Us & Them (Dreadzone remix)

Any Colour You Like (Kalbata remix)

Brain Damage (Adrian Sherwood & Jazzwad remix)

Eclipse (Victor Rice remix)