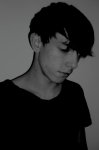 Ghettos of the Mind Chart
Defn
09-September-2011
Defn aka Nicholas Harrison is a multi – dimensional London based artist. As the years progress, Defn aka Nicholas Harrison is beginning to develop a real presence amongst the tiers of electronic dance music, with an ascension paralleling the rise of his currently led club night 'Parallel.'

After being bread up on his father's musical insurgence of 70's music and Industrial experimentation. He quickly took his hand to learning electric/ acoustic and bass guitar and had a 7 year long stint in a jazz band.

Which thus led to him graduating from London's SAE, his initial efforts primarily focused on combining electronic experimentation and sample based obscurity. Whilst progressing to incorporate cosmic space jazz sounds that are starting to become synonymous with his name. Defn is also continuing to further his commitment to demonstrating his precise analog sample based grooves and widening sonic palette.

If not in the studio writing original material or programming his club night. He can be found playing a host of selected events in and around London and the UK. Defn's Dj sets are tailored for the dance floor and increasingly explore the depths of all that is good in house and techno, and everything in between. Delivering a understanding between performer and audience by delivering the right track at the right time, for maximum effect.
Artist
Title
Label
Date

Price

1
PERSEUS TRAXX

Misspent Emotions

(limited 180 gram vinyl 12")

Boe Recordings

10 Aug 11
$7.73
Cat:

BOE 013


Genre: Deep House
2
BAXTER, Blake

Poetry & Rhythm: Session One

(12")

Mix Media US

28 Jun 04
$8.83
Cat:

MIX 12


Genre: Deep House
3
BELL, Norma Jean

I'm The Baddest Bitch

(12")

Pandamonium US

14 Nov 90
$11.04
Cat:

PR1 PAN


Genre:
4
BIG STRICK

100% Hustler

(double 12")

FXHE US

07 Apr 10
$16.57
Cat:

BIGFXHE


Genre: Deep House
5
ANDRES

Andres III

(12")

Mahogani US

06 Aug 11
$16.57
Cat:

MM 28


Genre: Deep House
6
RA H

Fall Of Justice

(12")

Morphine Italy

02 Mar 07
$8.83
Cat:

DOSER 002


Genre: Minimal/Tech House
7
SUMMERS, Steve

In The Mode For Love

(12")

LIES US

02 Sep 11
$11.04
Cat:

LIES 006


Genre: Deep House
8
K BONUS/NEGGHEAD

Compost Black Label #81

(12")

Compost Black Label Germany

01 Sep 11
$8.83
Cat:

COMP 383-1


Genre: Deep House
9
APOENA

Apoena

(CD)

Underground Quality US

12 Jul 11
$11.33
Cat:

APOENA


Genre: Deep House
10
PITTSBURGH TRACK AUTHORITY

The First Four

(12")

Uzuri Recordings

26 May 11
$9.94
Cat:

UZURI 015


Genre: Deep House