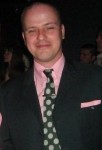 For Mods Only!
Adam Cooper
09-November-2009
Owner Of Rowed Out Records, releasing (mainly on vinyl) the best new mod / garage / beat and now jazz and funk bands from all over the world.
Part-time DJ (who isn't), mainly a collector with a love of all things 60s in style.
Personal preferences; 60s jazz / R&B and soul, fave band of all time will always be The Jam!
Artist
Title
Label
Date

Price

1
FONXIONAIRES, The

It's R&B Time

(7")

Rowed Out

16 Nov 09
$6.91
Cat:

ROR 008


Genre: 50s/60s
2
BUTTON UP

I'm Gonna Leave You

(7")

Rowed Out

31 Jul 09
$11.04
Cat:

ROR 006


Genre: Broken Beat/Nu Jazz
3
SHAKE, The

Troubled Scene

(7" limited to 300 copies)

Rowed Out

10 Aug 15
$4.41
Cat:

ROR 001


Genre: Psych/Garage Rock
4
UNDERCLASS STRIFE, The/THE SCREENBEATS/THE PATTERNS/THE LOST 45s

Do It For Kicks

(7")

Rowed Out

31 Jul 09
$2.76
Cat:

ROR 004


Genre:
5
YEH YEH/THE PETTY HOODLUMS/THE UPPER 5TH/THE VISITORS

Mods Mayday 2009

(7")

Rowed Out

31 Jul 09
$3.87
Cat:

ROR 005


Genre:
6
CHARMS, The/THE URGES/SECOND GLANCE/PENELOPE

Join The Tea Set!

(7")

Rowed Out

31 Jul 09
$4.41
Cat:

ROR 003


Genre: Funk
7

VARIOUS

Immediate Pleasure: 20 Tracks For The NFW Mod Generation

(unmixed CD)

Rowed Out

25 Nov 09
$7.18
Cat:

ROR 007


Genre: Rock

The Royal Hangmen - "Almost Grown"
The Attention! - "Ace Face"
The Foxionaires - "Uncle Willie Time"
The Black Hollies - "Gloomy Monday Morning"
Button Up - "Turn It Up To Bring It Down"
The Laynes - "Not The First Time"
Gene Drayton Unit - "Caffeind"
The Caper Story - "I Wish I Did"
Beatrevolver - "Nobody But You"
The Petty Hoodlums - "1-2-5"
Nick Buckle & Thee Ones - "Nite & Day"
The Small Fakers - "I Can't Dance With You"
The Nouvella's - "Satisfied"
The Ace - "Tonight"
Connett - "Madamoiselle"
Eurovox - "Victoria"
Tailor Made - "Weekend"
The Effectives - "Ba Ba Ba"
The Josephs - "The Situation"
The Reaction - "Then & Now"

8

VARIOUS

Soul Like Fire

(unmixed CD)

Rowed Out

31 Jul 09
$6.08
Cat:

ROR 002


Genre: Funk

The Movements - "Cry For You"
The Indikation - "London Electricity"
The Patterns - "I Know What You're Thinking"
Modus - "Some People Say"
The Heretics - "Cold Sore At Club Kamelon"
The Keepers - "U & I Don't Belong"
The Hoodwinks - "Josephine"
The Gonks - "Grown Man Cry"
The Smell Of Mutiny - "Butter Baby"
The Marksmen - "Yesterday's Gone"
The Shake! - "All The Rage"
Beatrevolver - "Understanding"
The Woggles - "Got A Heat On"
The Blow-Ups - "Everybody Needs Love"
Dollsquad - "I Don't Need No Doctor"
The Impact - "Talk Of The Town"
The Frantic V - "Treat Me Kind"
The Lost 45s - "Ghost In The Noonday Sun"

9

VARIOUS

Studio One Ska: The Original

(2xLP)

Soul Jazz

26 Feb 04
$22.66
Cat:

SJRLP 85


Genre: Classics/Ska

Jackie Mittoo - "El Bang Bang"
Ken Boothe & Stranger Cole - "Arte Bella"
The Wailers - "Put It On"
The Skatalites - "Addis Ababa"
Ronald Alphonso - "President Kennedy"
Joe Higgs - "I'm The Song My Enemies Sing"
The Skatalites - "Beardsman Ska"
Delroy Wilson - "I Want Justice"
Tommy Mccooks Orchestra - "Sampson"
The Ethiopians - "I'm Gonna Take Over Now"
Tommy Mccook - "Freedom Sounds"
The Maytal - "Marching On"
The Skatalites - "Exodus"
Roland Alphonso - "Look Away Ska"
Don Drummond - "Don Cosmic"
Ronald Alphonso - "Scambalena"
Andy & Joey - "You're Wondering Now"

10
STRATOLINERS, The/LITTLE WILLIE JOHN

What Do Want With My Love

(7")

Kent Dance Pick Gusto

20 Feb 09
$8.29
Cat:

GUSTO 003


Genre: Soul
11
MITTOO, Jackie

High Jack

(7")

Coxsone Jamaica

22 May 09
$3.86
Cat:

CS 1968


Genre: Classics/Ska
12
TOOTS & THE MAYTALS/PRINCE BUSTER/THE ALL STARS

Dog War (Riddim)

(7")

Prince Buster

02 Mar 09
$6.62
Cat:

DOG WAR


Genre: Classics/Ska
13
THIRD DEGREE, The

Mercy

(7")

Acid Jazz

06 Mar 09
$3.30
Cat:

AJX 218S


Genre: Broken Beat/Nu Jazz
14
BABY CHARLES

I Bet You Look Good On The Dancefloor

(7")

Record Kicks

21 Feb 08
$6.62
Cat:

RK 45014


Genre: Funk
15
SMOOVE/TURRELL

Don't Go

(7")

Jalapeno

21 May 09
$6.62
Cat:

JAL 79


Genre: Funk
16
SUNSETSOUL presents DA WIESEL

Boogaloo Stomp

(12")

Goodgroove

10 Apr 08
$6.08
Cat:

GG 04


Genre: Breakbeat
17
SMITH, Jimmy

I'm Goin' Git Myself Together

(LP)

MGM US

11 Aug 09
$14.36
Cat:

MGMSE 4751


Genre: Funk