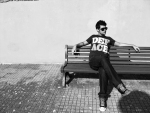 March 2010
Fabio Giannelli
26-March-2010
The young and talented Fabio Giannelli was born in 1986 in Italy and started djing when he was 13.
Early influenced by the new electronic sounds he decided to buy the first sequencer at the age of 18 years old and started to increase his attitude in music.
In 2006 he officially entered in the music scene with his first official release and in these years his releases received big support from djs like: Richie Hawtin, Mathias Kaden, Luciano, Luca Bacchetti, Martin Landsky, James Holden, Dave Ellesmere, Laurent Garnier, Danny Tenaglia, Marco Resmann, Tiefschwartz, Dan Ghenancia, Marco Carola, Ripperton, , Someone Else, Karotte and so on...
Continuously renewing himself and with an eclectic spirit nowaday he's working for labels like Thirtyonetwenty , Bangbang, Supplement Facts, OFF, International Freakshow and last but not least for his vinyl label District Raw.

A lot of new stuff is coming, stay tuned!
Artist
Title
Label
Date

Price

1
BUTTRICH, Martin

Crash Test

(CD)

Desolat Germany

25 Mar 10
$10.99
Cat:

DESOLATCD 002


Genre: Minimal/Tech House
2
CELLER, Alex

Mok Da Mush

(12")

Area Remote

10 Mar 10
$8.83
Cat:

AREA 018


Genre: Minimal/Tech House
3
AUDIOJACK

Schizophonic (remixes)

(12")

20/20 Vision

04 Mar 10
$6.62
Cat:

VIS 193


Genre: Minimal/Tech House
4
MIZRAHI, Gadi

Can't Stop This Feeling EP

(12")

Simple

24 Mar 10
$9.93
Cat:

SIMPLE 1045


Genre: Minimal/Tech House
5
YAKINE

Captor Of Sin EP

(12")

Eklo France

08 Apr 10
$8.83
Cat:

EKLO 015


Genre: Minimal/Tech House
6
FIDAN, Tolga

Gaijin

(12")

Vakant Germany

18 Mar 10
$9.93
Cat:

VA 033


Genre: Minimal/Tech House
7
LAUHAUS

Bring It

(12")

Remote Area Holland

17 Mar 10
$8.83
Cat:

REMOTE 024


Genre: Minimal/Tech House
8
GIANNELLI, Fabio

Got The Gap EP

(12")

District Raw Italy

01 Oct 09
$9.93
Cat:

DIR 002


Genre: Minimal/Tech House
9

VARIOUS

Don't Believe The Hype

(4xLP)

Oslo Germany

25 Mar 10
$33.97
Cat:

OSLO 0163


Genre: Minimal/Tech House

Damian Schwartz - "Ride You On"
Minimono - "Brake Spring"
Christian Burkhardt - "Fairy Floss"
Massimo Di Lena - "He Is The Walrus"
DJ W!ld - "Just Can Stand It"
Laverne Radix - "Strong Legs"
Johnny D - "Rashaida"
Sascha Dive - "Suburban Night"
Guillaume & The Coutu Dumonts - "Blam Blam"
Federico Molinari - "Gold Teeth"
Nekes - "Pump It"
Ray Okpara - "Ngozi"
Vera - "The Lovers & Demons"

10
HECTOR

Hispanic Causin Panic EP

(12")

8 Bit Germany

18 Mar 10
$8.83
Cat:

8BIT 0306


Genre: Minimal/Tech House
11
ACUMEN vs TIMID BOY

Chicago Story

(12")

Time Has Changed France

25 Mar 10
$9.93
Cat:

THCV 0186


Genre: Minimal/Tech House