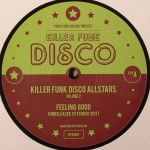 New Killer Funk Disco 12 vol 2 out now !
Killer Funk Records USA
10-February-2010
Check out the largest selection of killer funk releases anywhere on the net at uk store Juno and get your free killer funk sticker whilst stocks last from the site.
Remember, it's dinked it's not killer funk !

https://...
Artist
Title
Label
Date

Price

1
QUEENIE LYONS, Marie

See & Don't See

(7")

Deluxe US

28 Jan 10
$5.51
Cat:

MARIE 001 LTD


Genre: Funk
2
LUCIEN'S LUCK/THE FUNKTIFIED ENFORCERS

You Should Know! (Dinked Edition)

(dinked hand-stamped 7")

Killer Funk US

19 Oct 09
$5.80
Cat:

KF 008 DINKED


Genre: Funk
3
QUEENZ

We Will Rock You (remix)

(1-sided 7")

Queenz Reggae Jamaica

17 Nov 09
$3.30
Cat:

QUEENZREGGAE 001/WWRY 01


Genre: Dancehall/Ragga
4
JO, Patti/THE MASQUERADERS

Make Me Believe In You

(7")

Soul 7/Jazzman

14 Jan 10
$9.93
Cat:

SOUL7 013


Genre: Funk
5
GALLANT, Patsy/JON HENDRICKS

Jazz Classics Vol 2 :Te Caliente

(7")

Jazz Classics US

23 May 11
$5.80
Cat:

JAZZCLASS45 002


Genre: Funk
6
SMALLWOOD, George/MARSHMELLOW BAND

Just 4 You

(LP)

Jazzman

04 Feb 10
$44.15
Cat:

JMANLP 031


Genre: Funk
7
NITE JEWEL

Weak For Me

(7")

1984 US

02 Feb 10
$6.07
Cat:

001


Genre: Funk
8
DARGE, Keb/PAUL WELLER/VARIOUS

Lost & Found: Real RNB & Soul

(gatefold 2xLP)

BBE

21 Jan 10
$16.55
Cat:

BBE 124CLP


Genre: Funk

Big Mama Thornton - "They Call Me Big Mama"
The Brothers Of Soul - "Come On Back"
The Tempos - "(Countdown) Here I Come"
Epitome Of Sound - "You Don't Love Me"
Daddy Cleanhead & The Chuck Higgins Band - "Something's Goin' On In My Room"
The Casanova Two - "We Got To Keep on"
Elsie Wheat - "Tippin"
Sarah Dean - "Long Lean Daddy" (with Freddie Mitchell Orchestra)
Billy Fair & Orchestra - "I'll Be True To You"
The Cadets - "I Want You"
Velma Cross & Her High Steppers - "I'll Be Oh So Good"
Big T Tyler - "King Kong"
The Intruders - "Hang On In There"
Major Lance - "Rhythm"
Margie Joseph - "One More Chance"
Tammi Terrell - "All I Do Is Think About You"
The Dells - "Wear It On Your Face"
Bobby Bland - "Honey Child"
The Radiants - "Ain't No Big Thing"
Albert King - "Crosscut Saw"
Jimmy Witherspoon - "Money Is Getting Cheaper"
Billy Watkins - "The Ice-Man"
Eddie Giles - "Losin' Boy"
Emmitt Long - "Call Me"
Slim Harpo - "I Got Love If You Want It"

9
HAWTHORNE, Mayer

A Strange Arrangement: Instrumentals

(LP)

Stones Throw US

05 Feb 10
$17.39
Cat:

STH 2237


Genre: Funk
10
RANKIN, Kenny/DON FARDON

Name Of Love

(7")

Jazz Peace

01 Sep 09
$7.72
Cat:

JZ 0942


Genre: Broken Beat/Nu Jazz
11
MUHAMMAD, Idris

Super Bad

(7")

BGP

15 Dec 03
$9.11
Cat:

BGPS 021


Genre: Funk