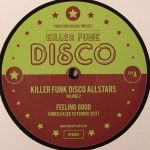 New Killer Funk Disco 12 vol2 out now !
Killer Funk Records USA
27-January-2010
Check out the largest selection of killer funk releases anywhere on the net at uk store Juno and get your free killer funk sticker whilst stocks last from the site.
Remember, it's dinked it's not killer funk !

https://...
Artist
Title
Label
Date

Price

1
GREENWOOD

Cheerleader Strut

(7")

Forest In Leaf Japan

09 Jan 10
$14.34
Cat:

GW 885


Genre: Funk
2
PUBLIC OPINION AFRO ORCHESTRA, The feat TUMI

Two Sides Of Truth

(12")

The Public Opinion Afro Orchestra Australia

05 Jan 10
$9.93
Cat:

POAO 001


Genre: Funk
3
LUCIEN'S LUCK/THE FUNKTIFIED ENFORCERS

You Should Know! (Dinked Edition)

(dinked hand-stamped 7")

Killer Funk US

19 Oct 09
$5.80
Cat:

KF 008 DINKED


Genre: Funk
4
QUEENZ

We Will Rock You (remix)

(1-sided 7")

Queenz Reggae Jamaica

17 Nov 09
$3.30
Cat:

QUEENZREGGAE 001/WWRY 01


Genre: Dancehall/Ragga
5

VARIOUS

Good God! Born Again Funk

(unmixed CD)

Numero Group US

25 Jan 10
$17.65
Cat:

NUMERO 030CD


Genre: Funk

Pastor TL Barrett & The Youth For Christ Choir - "Like A Ship"
Ada Richards - "I'm Drunk & Real High (In The Spirit Of God)"
Gospel Comforters - "Yes God Is Real"
Golden Echoes - "Packing A Grip"
Lucy Sister Soul Rodgers - "Pray A Little Longer"
Gospel Soul Revivals - "If Jesus Came Today"
Brother Samuel Cheatham - "Troubles Of The World"
Victory Travelers - "I Know I've Been Changed"
Jordan Travelers - "God Will Answer"
Inspirational Gospel Singers - "The Same Thing It Took"
Sacred Four - "Somebody Watching You"
Andrew Wartts & The Gospel Storytellers - "Peter & John"
Holy Disciples Of Chicago III - "I Know Him"
Sensational Five Singing Sons - "Share Your Love (With The Master)"
Little Chris & The Righteous Singers - "I Thank You Lord"
Sensational Five - "Coming On Strong Staying Along"
Chicago Travelers - "Been Trying"
James Austin & The St Luke Cogic Youth Chior - "I'll Take James For Mine"

6

VARIOUS

You Heard It Here First! Volume 2

(unmixed CD)

Ace

25 Jan 10
$13.24
Cat:

CDCHD 1250


Genre: Funk

Billy Royal - "Hush"
The Four Preps - "Love Of The Common People"
Johnny Kidd & The Pirates - "Shakin' All Over"
Barry McGuire - "California Dreamin'"
Pino Donaggio - "Io Che Non Vivo (Senza Te)"
The Dells - "Higher & Higher"
James Brown - "I Don't Care"
Bobby Parker - "You Got What It Takes"
Tony Joe White - "Old Man Willis"
Dan Penn - "I'm Your Puppet"
Sir Mack Rice - "Mustang Sally"
Solomon Linda's Original Evening Birds - "Mbube"
James Ray - "I Got My Mind Set On You" (part 1 & 2)
The McCoys - "Sorrow"
The Corporation - "Candida"
The Four Voices - "Sealed With A Kiss"
Fred Neil - "Everybody's Talkin'"
The Outsiders - "Bend Me, Shape Me"
Hoyt Axton - "Sing In The Sunshine"
The Great Society - "Someone To Love"
Don Cherry - "Then You Can Tell Me Goodbye"
The Greenbriar Boys - "Different Drum"
Don & Dewey - "Leavin' It All Up To You"
Chuck Berry - "Come On"

7
YAABA FUNK

Nyash! E Go Bite U (repress)

(10")

Yaabaphone

22 Jan 10
$8.82
Cat:

YAABAPHONE 001


Genre: Funk
8
SOFRITO SPECIALS

Sofrito Specials Presents Tropical Soundclash! (repress)

(12")

Sofrito Specials

20 Jan 10
$8.82
Cat:

SOFR 005


Genre: Funk
9
ESSO TRINIDAD STEEL BAND, The

Van Dyke Park Presents: The Esso Trinidad Steel Band

(CD + DVD)

Minky US

18 Jan 10
$16.84
Cat:

MKY BNR 102


Genre: International
10
HAWTHORNE, Mayer

A Strange Arrangement

(2xLP)

Stones Throw US

03 Sep 09
$23.74
Cat:

STH 2219


Genre: Soul
11
DJ FEDE/VARIOUS

The Incredible Sound Of Deep Funk Vol 3

(continuous CD)

La Suite Italy

22 Jan 10
$11.03
Cat:

OF 015


Genre: Funk
12
BROWN, James

Please Please Please (remastered)

(low-price 2xCD)

Not Now Music

22 Jan 10
$5.51
Cat:

NOT2CD 334


Genre: Funk

Please, Please, Please
Chonnie-On-Chon
Hold My Baby's Hand
I Feel That Old Feeling Comin' On
Just Won't Do Right
Baby Cries Over The Ocean
I Don't Know
Tell Me What I Did Wrong
Try Me
That Dood It
Beggin, Begging
I Walked Alone
No, No, No, No
That's When I Lost My Heart
Let's Make It
Love Or A Game
There Must Be A Reason
I Want You So Bad
Why Do You Do Me
Got To Cry
Strange Things Happen
Fine Old Foxy Self
Messing With The Blues
Try Me
It Was You
I've Got To Change
Can't Be The Same
It Hurts To Tell You
I Won't Plead No More
You're Mine, You're Mine
Gonna Try
Don't Let It Happen To Me
Good Good Lovin (bonus track)

13
MURO/VARIOUS

Live 45 Only Mix + Plastic Multicase

(mix CDR + plastic cd multicase (space for 6 CDs))

Savage Japan

09 Jan 10
$22.07
Cat:

45 ONLYMIX


Genre: Funk
14
JO, Patti/THE MASQUERADERS

Make Me Believe In You

(7")

Soul 7/Jazzman

14 Jan 10
$9.93
Cat:

SOUL7 013


Genre: Funk