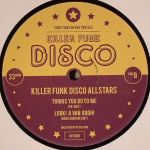 The Finest in Killer Funk & Disco !
Killer Funk Records USA
23-December-2009
Check out the largest selection of killer funk releases anywhere on the net at uk store Juno and get your free killer funk sticker whilst stocks last from the site.
Remember, it's dinked it's not killer funk !

https://...
Artist
Title
Label
Date

Price

1
TRIBE

Rebirth

(gatefold 2xLP)

Planet E US

11 Dec 09
$17.68
Cat:

6155766


Genre: Broken Beat/Nu Jazz
2
LUCIEN'S LUCK/THE FUNKTIFIED ENFORCERS

You Should Know! (Dinked Edition)

(dinked hand-stamped 7")

Killer Funk US

19 Oct 09
$5.80
Cat:

KF 008 DINKED


Genre: Funk
3
QUEENZ

We Will Rock You (remix)

(1-sided 7")

Queenz Reggae Jamaica

17 Nov 09
$3.31
Cat:

QUEENZREGGAE 001/WWRY 01


Genre: Dancehall/Ragga
4
SIR JARVIS

Freaky Grapevine

(7")

Badass 45

27 Nov 09
$7.19
Cat:

BADASS45 003


Genre: Funk
5
CPT SPARKY/VARIOUS

We Pay Respekt: Evergreens From Grey Reality Poland

(unmixed CD)

Polskie Nagrania Poland

23 Dec 09
$13.54
Cat:

PNCD 1245


Genre: Funk

Ewa Bem - "Get Back"
Novi Singers - "One Note Samba"
Spirituals Singers Band - "Fare You Well"
Jozef Mazurkiewicz Orchestra - "Brazil"
Niebiesko-Czarni - "Respekt"
Nocna Zmiana Bluesa - "Teeny Weeny Bit"
Bossa Nova Combo - "Desafinado"
Novi Singers - "Fool On The Hill"
Polanie - "Cool Jerk"
Test - "Livin' In Sin"
Big Band Katowice - "Madrox"
Niebiesko-Czarni - "Can't You See Me"
Orkiestra Pritv - "Kameleon" (with Lodzi Dyr henryk Debich)
Stanislaw Sojka - "Naima"
Extra Ball - "Naima"

6
SOUL SERVICE DJ TEAM/VARIOUS

Polish Funk Volume 4: The Unique Selection Of Rare Grooves From Poland Of The 60's, 70's & 80's

(unmixed CD)

Polskie Nagrania Poland

23 Dec 09
$11.05
Cat:

PNCD 1222


Genre: Funk

Czerwone Guitar - "Rytm Ziemi (Rhythm Of The Earth)"
Urszula Sipinska - "Fortepian W Rzece (Piano In The River)"
Stan Borys - "Moj Przyjaciel Deszcz (Rain Is My Friend)"
Arp Life - "Bubu"
Filipinki - "On Jest Tu (He's Here)"
Polanie - "Nie Zawroce (I Will Not Turn Back)"
Bob Roy Orchestra - "Mr Fuzz"
Janusz Hryniewicz I Wislanie - "Sam Gdy Zechce To Powroce (I'll Come Back When I Feel Like It)"
Liliana Urbanska - "Kto Dogoni Wiatr (Who Will Overtake The Wind)"
Halina Frackowiak - "W Powszednie Dni (On Common Days)"
Respekt - "Daleko Przed Siebie (Far Away)"
Piotr Figiel - "Czas Nocy (At Night Time)"
Czeslaw Niemen - "Larwa (The Larva)"
Wojciech Karolak - "Discopus Nr 1"

7
RAW SOUL

Superman

(7")

Plut US

21 Dec 09
$8.83
Cat:

PLUT08


Genre: Funk
8
JONES, Quincy

Smackwater Jack

(CD)

Verve

21 Dec 09
$32.34
Cat:

2706890


Genre: Funk
9
PALO

This Is Afro Cuban Funk

(CD)

Rolling Pin Music

26 Jan 10
$42.00
Cat:

RP 5741


Genre: Broken Beat/Nu Jazz
10
ULTIMATE BREAKS & BEATS

Synthetic Substitution

(7")

Street Beat US

18 Dec 09
$7.73
Cat:

SBR 778


Genre: Broken Beat/Nu Jazz
11
BIG MAYBELLE

96 Tears

(7")

Rojac US

15 Dec 09
$9.67
Cat:

ROJAC 112


Genre: Funk
12
BHAKTI JAZZ

Glimpses Of Truth

(7")

Tramp Germany

09 Dec 09
$6.08
Cat:

JTR 5002


Genre: Funk
13
DOPE, Kenny/THE UNDERCOVER BROTHER/VARIOUS

Dopebrother: Studio A

(unmixed CD)

Dope Brother US

16 Dec 09
$18.52
Cat:

DB 7022


Genre: Funk

Lenis Guess & The Raw Soul - "How You Gonna Do It?" (Undercover Brother edit)
Kenny Smith & The Fox Fire Band - "Foxfire" (Dopebrother remix)
Bab (Big Apple Band) - "Party & Get On Down" (Undercover Brother edit)
Steve Marshall - "Creative Happiness"
Masterminds - "We Got To Get Together" (feat Lady Bianca - 7 Inch version)
Jimmy James Thomas - "I Can't Dance" (Undercover Brother edit)
Kenny Smith & The Fox Fire Band - "Here Comes The Law" (Dopebrother remix)
400 Years Of What - "Get Down People" (Undercover Brother edit)
Dirty Red Morgan Group - "Your Chicken Ain't Funky Like Mine"
Kenny Smith & The Maximum Feeling - "Everybody Knows I Love You"
Steve Marshall - "Maintain" (12 Inch disco version)
Manzel - "It's Over Now" (Maw remix dub)
Manzel & The Soul Syndicate - "Can You Feel My Love" (stereo)
400 Years Of What - "Do What You Like" (Undercover Brother edit)
Jimmy James Thomas - "Waiting At The Station"
Kenny Smith & The Maximum Feeling - "Skunkie" (Undercover Brother edit)
Manzel - "It's Over Now" (Undercover Brother Quiet Storm mix)
Track 18