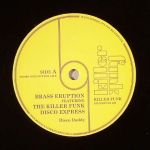 New release is out now! Killer Funk 009 !
Killer Funk Records USA
06-December-2009
Check out the largest selection of killer funk releases anywhere on the net at uk store Juno and get your free killer funk sticker whilst stocks last from the site.
Remember, it's dinked it's not killer funk !

https://...
Artist
Title
Label
Date

Price

1
LUCIEN'S LUCK/THE FUNKTIFIED ENFORCERS

You Should Know! (Dinked Edition)

(dinked hand-stamped 7")

Killer Funk US

19 Oct 09
$5.80
Cat:

KF 008 DINKED


Genre: Funk
2
QUEENZ

We Will Rock You (remix)

(1-sided 7")

Queenz Reggae Jamaica

17 Nov 09
$3.30
Cat:

QUEENZREGGAE 001/WWRY 01


Genre: Dancehall/Ragga
3
CHEYENNE'S COMIN/HANSON

Come Back To Me

(7")

Blackcat

02 Sep 09
$6.62
Cat:

BCAT 0996


Genre: Funk
4
SIR JARVIS

Freaky Grapevine

(7")

Badass 45

27 Nov 09
$7.18
Cat:

BADASS45 003


Genre: Funk
5
SMITH, Ed

The Michael Remixes

(7")

EDR France

27 Nov 09
$7.18
Cat:

EDR 006


Genre: Funk
6
MATO vs THE FUGEE/THE PHARCYDE

Ready Or Not

(7")

Stix France

23 Nov 09
$6.08
Cat:

STIX 015


Genre: Classics/Ska
7
RICHARDSON, Del/ELLEN McLLWAINE

Pieces Of A Jigsaw

(7")

Jazz Peace

25 Nov 09
$7.73
Cat:

JZ 0729


Genre: Funk
8
ITSU UNO

B Boy Rave For The Ageing Hipster

(7")

Fat Hop

23 Nov 09
$6.62
Cat:

FATHOP 001


Genre: Funk
9
MAGIK MOAR

The Vibe

(7")

MGK France

02 Dec 09
$6.91
Cat:

MGK 701


Genre: Hip Hop/R&B
10
DALINDEO

New Creation

(7")

Ricky-Tick Finland

25 Nov 09
$6.62
Cat:

RT 034


Genre: Broken Beat/Nu Jazz
11
SMITH, Gizelle

June

(7")

Record Kicks

30 Nov 09
$7.18
Cat:

RK45 031


Genre: Funk
12
MR THING/VARIOUS

Strange Breaks & Mr Thing II

(2xLP)

BBE

21 Oct 09
$20.73
Cat:

BBE 135CLP


Genre: Funk

Ruby Andrews - "You Made A Believer (Out Of Me)"
Kalyanji Anandji - "Back Ground Music"
Jake Wade & The Soul Searchers - "Searching For Soul" (part 1)
Hot Butter & Soul - "ABC"
Dick Walter - "Spooky Do"
Roy Head - "She's About A Mover"
Hot City Bump Band - "It's Just Begun"
Val Merrall's Orchestra - "The Horse"
Frank Pleyer Big Band - "Sally"
Art & Ron - "Can't Stop Talkin"
Johnny Griffith Inc - "Love Is Just A Word"
The Generation Gap - "Family Affair"
Tinga Stewart - "The Message"
Jerzy Milian Orkiestra - "Gacek"
John L Watson - "Rockin' Chair" (with White Mouse)
The Alan Tew Orchestra - "Pink Panther"
The Rias Orchestra Conducted By Helmuth Brandenburg - "Pru Urebu"
Oscar Harris & The Twinkle Stars - "Twinkle Stars Boo Galoo" (live)

13
HAWTHORNE, Mayer & THE COUNTRY

Just Ain't Gonna Work Out

(10" heart shaped red vinyl)

Stones Throw US

17 Mar 09
$16.30
Cat:

STH 7028


Genre: Soul
14
DARGE, Keb/LUCINDA SLIM/VARIOUS

This Is DJ'S Choice Volume 2

(LP)

Unique Germany

01 Dec 09
$19.88
Cat:

UNIQ166-1


Genre: Funk

John Lee Hooker - "I Wanna Ramble"
Howlin Wolf - "You'll Be Mine"
Blanche Thomas - "You Ain't Such A Much"
Big Maybelle - "That's A Pretty Good Love"
Cadets - "Love Bandit"
Big T Tyler - "King Kong"
Joe Houston - "All Night Long"
Baker Knight - "Bring My Cadillac Back"
Jessie & The Orbits - "Voodoo Voodoo"
Jack Rabbit Slim - "That's The Man That Count"
Sugar Pie Desanto - "Soulful Dress"
Sharon Jones - "How Do I Let A Good Man Down"
Timebox - "Beggin"
General Assembly - "Sensitive Mind"
Syng McGowan - "That's What I Want"

15
BEEKEEPERS, The

Bee Funk EP

(12'')

Jalapeno

04 Dec 09
$6.08
Cat:

JAL 95


Genre: Breakbeat
16
DANSER'S INFERNO

Creation One

(LP)

Diwthegarden Japan

16 Nov 09
$33.15
Cat:

DIWLPTHLP 113


Genre: Funk
17
ULTIMATE BREAKS & BEATS

I Know You Got Soul

(7")

Street Beat US

19 Nov 09
$7.73
Cat:

SBR 776


Genre: Funk