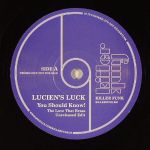 You Should Know these killer funkers !
Killer Funk Records USA
06-November-2009
check out our new release !

Juno has currently the best selection of killer funk releases and at the keenest prices. What yo waitin' for !??!?Join the myspace to read about US tours and dj/live band events & dates and listen to forthcoming releases on the label. DON'T FORGET TO COLLECT YOUR FREE KILLER FUNK STICKERS AT JUNO !

https://...
Artist
Title
Label
Date

Price

1
LUCIEN'S LUCK/THE FUNKTIFIED ENFORCERS

You Should Know! (Dinked Edition)

(dinked hand-stamped 7")

Killer Funk US

19 Oct 09
$5.81
Cat:

KF 008 DINKED


Genre: Funk
2
BUDD, Roy meets MB

Get Carter

(white vinyl 7")

GET

22 Oct 09
$9.95
Cat:

GET 001WHITELTD100


Genre: Funk
3
CHEYENNE'S COMIN/HANSON

Come Back To Me

(7")

Blackcat

02 Sep 09
$6.63
Cat:

BCAT 0996


Genre: Funk
4
AYERS, Roy/BAH SAMBA

Positive Vibe

(limited 7")

BSM

02 Jul 09
$9.95
Cat:

BSM 001


Genre: Funk
5
BARKIN' SOUL

Babybababebe

(7")

Mighty Highness Australia

10 Oct 09
$7.74
Cat:

MHR 7003


Genre: Funk
6
SOULSTEPPERS, The

Soul Step

(7")

Lava US

30 Oct 09
$8.84
Cat:

LV 3


Genre: Funk
7
GHETTO BROTHERS, The

The Ghetto Brothers Power

(7")

Truth & Soul US

30 Oct 09
$7.74
Cat:

TS 025


Genre: Funk
8
DAM FUNK

Japan Groove: Japan Edition 45

(7")

Stones Throw Japan

13 Nov 09
$10.51
Cat:

STH 7033


Genre: Funk
9
SINTO

Man On The Banks

(7")

Tramp Germany

03 Nov 09
$6.09
Cat:

JTR 5001


Genre: Funk
10
IKEBE SHAKEDOWN

Hard Steppin

(7")

Colemine US

03 Nov 09
$10.79
Cat:

CLMN 104


Genre: Funk
11
SCOTT K/COLE MEDINA vs JAMES BROWN

I'm Satisfied

(12")

Box Music US

12 Aug 13
$15.22
Cat:

BOX 003


Genre: Funk
12
RANDA & THE SOUL KINGDOM

Randa & The Soul Kingdom

(LP)

Freestyle

29 Oct 09
$14.37
Cat:

FSRLP 066


Genre: Funk
13
SPEAK LOW

Soul Is What You Got

(7")

Lovemonk Spain

15 Oct 09
$7.19
Cat:

LMNKV 42


Genre: Funk
14

VARIOUS

New Orleans Funk Vol 2

(3xLP)

Soul Jazz

04 Apr 08
$25.44
Cat:

SJRLP 185


Genre: Funk

Cyril Neville - "Gossip"
Eddie Bo - "If It's Good To You"
Ray J - "Right Place, Wrong Time"
The Meters - "Chicken Strut"
Allen Toussaint - "Tequila"
The Prime Mates - "Hot Tamales"
Betty Harris - "Show It"
Lee Dorsey - "Four Corners"
Bonnie & Sheila - "You Keep Me Hanging On"
The Gaturs - "Yeah You're Right, You Know You're Right"
Danny White - "The Twitch"
Inell Young - "What Do You See In Her"
Earl King - "Street Parade"
Eddie Bo - "The Rubber Band"
Benny Spellman - "Fortune Teller"
Warren Lee - "Mama Said We Cant Get Married"
Betty Harris - "12 Red Roses"
Joe Chopper - "oul Pusher"
Eddie Bo - "Hey Bo"
Johnny Moore - "Haven't I Been Good To You"
Jimmy Hicks - "I'm Mr Big Stuff"
Warren Lee - "Funky Belly"
G Davis & R Tyler - "Hold On, Help Is On The Way"
Art Neville - "Bo Diddley"
Porgy Jones - "Dap"

15

VARIOUS

Can You Dig It? The Music & Politics Of Black Action Films 1968-75

(1st 2xLP)

Soul Jazz

08 Oct 09
$22.68
Cat:

SJRLP 214VOL1


Genre: Funk

Roy Ayers - "Coffy Is The Color"
Gene Page - "Blacula"
Johnny Pate - "Shaft In Africa"
Willie Hutch - "Brother's Gonna Work It Out"
Don Costa - "Charley"
Marvin Gaye - "T Plays It Cool"
Bobby Womack - "Across 110th Street"
JJ Johnson - "Willie Chase"
James Brown - "Down & Out In New York City"
Quincy Jones - "They Call Me Mister Tibbs"
Martha Reeves - "Keep On Movin' On"
Dennis Coffey - "Theme From Black Belt Jones"
Curtis Mayfield - "Freddie's Dead"
The Blackbyrds - "Wilford's Gone"
Willie Hutch - "Theme Of Foxy Brown"
Isaac Hayes - "Run Fay Run"

16

VARIOUS

Can You Dig It? The Music & Politics Of Black Action Films 1968-75

(2nd 2xLP)

Soul Jazz

08 Oct 09
$19.37
Cat:

SJRLP 214VOL2


Genre: Funk

Isaac Hayes - "Shaft"
Curtis Mayfield - "Pusherman"
Joe Simon - "Theme From Cleopatra Jones"
Johnny Pate - "You Can't Even Walk In The Park"
Brer Soul & Earth, Wind & Fire - "Sweetback's Theme"
James Brown - "Make It Good To Yourself"
Isaac Hayes - "Pursuit Of The Pimpmobile"
Grant Green - "Travelling To Get To Doc"
Booker T & The MG's - "Time Is Tight"
Roy Ayers - "Aragon"
Edwin Starr - "Easin' In"
Gordon Staples - "Strung Out"
Nat Dove & The Devils - "Zombie March"
The Impressions - "Make A Resolution"
Solomon Burke & Gene Page - "The Bus"
Jack Ashford - "Las Vegas Strut"
Don Julian - "Lay It On Your Head"
Galt MacDermot - "Ed & Digger"

17
BROOKS, Karmello/CARLA THOMAS

Tell Me Baby

(7")

Kent Town

28 Sep 09
$9.13
Cat:

TOWN 135


Genre: Soul
18
GREENWOOD RHYTHM COALITION

GRC Bailables

(10")

Nonames US

09 Sep 09
$7.19
Cat:

NONAMES 01LTD300


Genre: Broken Beat/Nu Jazz