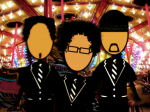 EAR BLEEDERS SEPT 2008
The Angry Kids
22-September-2008
The Angry Kids are a team of superheroes.

ry2K recruited, and subsequently took the rag-tag team and trained them. He taught them to use the superhuman gifts given to them by god. He taught them to believe in themselves, to believe in one another, and to believe in the power of music. Since then, The Angry Kids have began to change the world
In short: The Angry Kids are the greatest band in the universe.

Their single Mr. Brown which features the fully authorized vocals of the legend himself- Bob Marley may be one of the single best records in the history of music. Watch for it!
Artist
Title
Label
Date

Price

1
SAN, Aaren/THE BROKEN FAMILY BAND

Double A

(12")

Lot 49

01 Jan 90
$6.04
Cat:

LOT 49029


Genre: Electro House
2
DIRTY FUNKER

Viva La Vida: The Dirty Funker Remixes

(12")

Spirit

16 Sep 08
$7.68
Cat:

DFCP 001


Genre: Electro House
3
RHYMES, Dylan vs BLENDE feat ODISSI

Stars

(12")

Lot 49

21 May 08
$6.04
Cat:

LOT 49032


Genre: Electro House
4
FAKE BLOOD

Mars

(12")

Cheap Thrills

12 Jun 08
$5.48
Cat:

CHEAP 003X


Genre: Electro House
5
ROGUE ELEMENT

Panic Attacks

(12")

Exceptional

26 Jun 08
$6.04
Cat:

EXEC 96


Genre: Funky/Club House
6
CRAZY P

Lie Lost (remixes)

(12" promo)

2020

15 Sep 08
$5.48
Cat:

CRAZYP 001


Genre: Disco/Nu-Disco
7
LOVEYS, Trevor

The Shake It EP

(12")

Tragic Magic

24 Jul 08
$6.58
Cat:

TM 12001


Genre: Electro House
8
EVERYBODY IN THE PLACE

Everybody In The Place

(12")

unknown label

13 Sep 08
$7.14
Cat:

PRODIGY 001


Genre: Electro House
9
GOPHER, Alex

Aurora Vol 2

(12")

Go 4 Music France

16 Sep 08
$8.78
Cat:

GO4 09


Genre: Electro House
10
SPLITTR

All Alone (remixes)

(12")

Big & Dirty Holland

01 Nov 07
$8.78
Cat:

BAD 021R


Genre: Funky/Club House