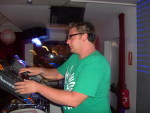 LONG LIVE BELGIUM !
EXTRASOUL
10-October-2009
a quick selection of Belgium tracks to support our homegrown dj/producers & promote belgium electronic music in the past & present
We suffer of a lack of chauvenism !
& people really have to know that black music really wouldnt be the same without our own adolphe sax & that we should be proud of our legacy & role in shaping the underground scene as we know it today !
if we dont do it it will be lost forever....
Artist
Title
Label
Date

Price

1
HUMAN RESOURCE/808 STATE/HARDFLOOR

Serious Beats 50 Vinyl 1

(12")

541 Belgium

28 Jun 06
$8.83
Cat:

541416 501521


Genre: Funky/Club House
2
VAN HOESEN, Peter

Empire In Decline

(12")

Time To Express Belgium

13 Nov 08
$9.94
Cat:

T2X 003


Genre: Minimal/Tech House
3
CANGELLI, Franco

Mondo Guasto

(12")

Aesthetik France

26 Sep 06
$8.83
Cat:

AER 01


Genre: Minimal/Tech House
4
SAN SODA

The Super Pim Pam Pet EP

(12")

We Play House Belgium

06 May 09
$8.83
Cat:

WPH 003


Genre: Deep House
5
ISHII, Ken feat FABRICE LIG

Organised Green

(12")

70 Drums Japan

20 Apr 07
$15.46
Cat:

70 DEP-001


Genre: Techno
6
VAN EYNDE, Trish

Subject Belgium

(12")

Subject Detroit US

21 Aug 09
$7.73
Cat:

SUB 033


Genre: Techno
7
MORTHEN KIANG/REZKAR/VALYOM/ROGER 23

Ruts 2/3

(12")

Meakusma Belgium

18 Nov 08
$7.73
Cat:

RUTS 002


Genre: Techno
8
SPIRIT CATCHER

Beezy Operator

(12")

Om US

08 Oct 09
$8.83
Cat:

OM 374SV6


Genre: Funky/Club House
9
LOCODICE/VARIOUS

Ten Years Cocoon Ibiza: Dubfire & Loco Dice In The Mix

(mixed 2xCD)

Cocoon Germany

30 Jul 09
$16.57
Cat:

CORMIX 024


Genre: Minimal/Tech House

Basic Channel/Mr Bizz - "Mutism/Eternity"
Djorvin Clain - "Unwritten Secret" (Tadeo remix)
Lachriz - "Papgeno"
Fritz Zander - "Keep Focused"
Sebrok - "Vision"
Alessio Mereu - "Attimo Vincente"
Paul Ritch - "Split The Line"
Anton Piette & Delete - "Minutos"
Tiga - "Beep Beep" (Loco Dice remix)
Andrea Olivia - "Rainers"
Martin Woerner - "Tilt Tuck & Tighten"
Rino Cerrone & Flavio Diaz - "Miseno"
Reset Robot - "Do The Slot"
Yapacc - "Conga De Terre"
Max Cavalerra - "Function"
Minilogue/Basic Channel - "Jamaica/Mutism" (Dubfire Dreadmill remix)
Jin Choi - "Carnivores"
Levon Vincent - "Woman Is The Devil"
Patrick Specke - "A Bitchful Linestepper"
Jay Haze & Ricardo Villalobos - "Mellow Dee"
Vlad Caia - "Chango"
Ambivalent - "Breathe" (JPLS Choke remix)
DJ Yellow presents Mindz Kontrol Ultra - "Fubu"
Davide Squillace - "One Lobster, Please" (Mathias Kaden's Gambass remix)
Reboot/Aaron Carl - "Jada Jada/Wallshaker" (original 12 inch mix)
Martinez - "Black Mamba"
Marco Carola - "90's"
Brothers' Vibe - "Revolution"
Ekkohaus - "Unsound"
Carlo Lio - "Crispy"
Octave One/Bernard Badie - "Terraforming/Time Reveals"

10
HELLM, Stephen

Taste

(12")

K Belgium

13 Aug 09
$9.94
Cat:

KRE C003


Genre: Minimal/Tech House