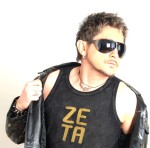 ZETA'S OCTOBER CHART
Luca Zeta
17-October-2008
Be ready for the newest single "I CAN'T STAY" performed by Alberto Remondini & Luca Zeta and for the most wanted e,p, "ZETAZEROEIGHT" by Luca Zeta vs. Sander with four tracks in hands up and jump style.
In meantime, order now your copy of "Dance Passion 3rd Act", the dance compilation mixed and selected by Danijay & Luca Zeta.
http://www.juno.co.uk/ppps/products/330066-01.htm
Come dancing, folks!!!
Artist
Title
Label
Date

Price

1
PARIS ENCORE

Hungry Eyes

(12")

Attention Germany

15 Jul 08
$8.83
Cat:

ATT 025


Genre: Pop
2
BASSHUNTER

Angel In The Night

(CD single)

Hard 2 Beat

27 Sep 08
$4.42
Cat:

H2B 16CDS


Genre: Pop Trance
3
CASCADA

Because The Night

(7 track CD single)

All Around The World

01 Aug 08
$3.31
Cat:

CDGLOBE 942


Genre: Scouse House
4
SCOOTER vs STATUS QUO

Jump That Rock (Whatever You Want)

(12")

Sheffield Tunes

01 Oct 08
$8.83
Cat:

SCOOT 20


Genre: Pop Trance
5
BROOKLYN BOUNCE

Get Ready To Bounce (Recall 08)

(12")

Mental Madness Germany

18 Jul 08
$8.83
Cat:

MMR 147


Genre: Pop Trance
6
DE GREES

I Believe

(12")

Yawa Germany

07 Oct 08
$8.83
Cat:

YAWA 0862-6


Genre: Pop Trance
7
MAYTH, Rob

Herz An Herz

(12")

Zooland Germany

25 Jun 08
$8.83
Cat:

ZOO 042


Genre: Pop Trance
8
TOPMODELZ

Time 2 Rock EP

(12")

Aqualoop Germany

09 Jul 08
$8.83
Cat:

AQL 124


Genre: Hard House
9
WINTER, Dan

Fading Like A Flower

(12")

Zooland Germany

10 Sep 08
$8.83
Cat:

ZOO 041


Genre: Pop Trance
10
MR BROWN

Church Lady

(CD single)

Logo Italy

11 Jul 08
$6.62
Cat:

LOGO 058


Genre: Pop