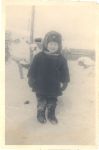 LATEST RECORDS
IAMBOY
07-February-2010
IAMBOY, Misha Maltsev, comes from Pokrovsk in the Republic of Sakha, Siberia.

Before moving to London in 2000, he helped organize the Tabyk music festival, produced alternative and world music programmes for Sakha Radio, published a music fanzine, and produced local artists such as Stepanida Borisova and Chyskyyrai.

An alumni of SOAS, London, Misha works on radio and TV documentaries (BBC) as a freelancer; his film journeys have included an extreme Siberian winter expedition with a husky sled team and a trek in the jungles of Laos to film the Hmong rebels.

He is one of London's most eclectic DJs and has played DJ gigs ranging from festivals such as Glastonbury, Big Chill and the Isle of Wight Festival to small clubs like Radio Gagarin in Notting Hill Arts Club. His adventurous and eccentric DJ sets include anything from minimal techno to field-recordings of the Balkan Gypsies, Afro-Beat, Latin or punk.

Misha combines DJ activities with his research fellowship in ethnomusicology at the School of Oriental and African Studies in London. His current research project is about the revival of shamanism in Siberian indigenous republics.
Artist
Title
Label
Date

Price

1
MONKEY

Volume VIP

(12")

Sonic Lodge Recordings UK

22 Sep 09
$6.62
Cat:

SONIC 001


Genre: Dirty Dubstep/Trap/Grime
2
ITOH, Takaaki/GO HIYAMA/KYOUDAI ITSUMO/ASAGAOAUDIO

Bloodshed EP

(12")

Audio Assault Arms Holland

13 Jan 10
$8.83
Cat:

ARMS 017


Genre: Techno
3
SURVIVAL

Secrets

(12")

Audio Tactics

18 Jan 10
$7.19
Cat:

AT 006


Genre: Drum And Bass
4
MARTSMAN/PARANOID SOCIETY

Periphereia

(limited hand-numbered 12")

Alphacut Germany

08 Jan 10
$8.83
Cat:

ALPHACUT 14


Genre: Drum And Bass
5
MALA/COOLY G

Hyperdub 5.5 EP

(limited 12")

Hyperdub

04 Dec 09
$6.62
Cat:

HDB 027


Genre: Dirty Dubstep/Trap/Grime
6
LINDEN/BEN P

Old Days

(12")

Diverse Products

10 Nov 09
$6.62
Cat:

DVP 014


Genre: Drum And Bass
7
REBEL MC

Lose Your Soul

(12")

Congo Natty

30 Oct 09
$7.73
Cat:

ZION 04


Genre: Drum And Bass
8
GREMLINZ/RUMBLETON

Jaro 88

(12")

Outsider Spain

20 Oct 09
$6.62
Cat:

OUTSIDE 022


Genre: Drum And Bass
9
CONSEQUENCE

Live For Never (LP sampler)

(12")

Exit

15 Oct 09
$6.91
Cat:

EXIT 017


Genre: Drum And Bass
10
FUSED FORCES

Boy Cried Wolf

(12")

Substance Abuse

08 Oct 09
$7.19
Cat:

SUBSTA 002


Genre: Deep Dubstep
11
KITECH

Start Again

(12")

Obscene

06 Oct 09
$6.91
Cat:

OBSCENE 022


Genre: Drum And Bass
12
ID/SKINNZ

The Blues

(12")

Earwax

30 Sep 09
$7.19
Cat:

EAR 011


Genre: Dirty Dubstep/Trap/Grime
13
QUALITY NOT QUANTITY 3

Quality Not Quantity Vol 3

(double 12" promo)

31

30 Sep 09
$11.05
Cat:

31R 040


Genre: Drum And Bass
14
ISOTONE

Lights Out

(12")

Horizons Music

22 Sep 09
$7.19
Cat:

HZN 035


Genre: Drum And Bass
15
MARTYN/LD

Hyperdub 5.4 EP

(limited 12")

Hyperdub

17 Sep 09
$6.62
Cat:

HDB 026


Genre: Dirty Dubstep/Trap/Grime
16
MENSAH

Sahara

(12")

Lo Dubs US

16 Sep 09
$7.73
Cat:

LODUBS 1209015


Genre: Dirty Dubstep/Trap/Grime
17
OCTOBER

Elephants

(12")

Immerse

16 Sep 09
$6.62
Cat:

IME 013


Genre: Deep Dubstep
18
SKREAM

Burning Up

(12'')

Digital Soundboy

09 Sep 09
$6.62
Cat:

SBOY 023


Genre: Drum And Bass
19
GATEKEEPER/APPLEBLIM

Hades

(12")

Immerse

20 Aug 09
$7.73
Cat:

IME 012


Genre: Dirty Dubstep/Trap/Grime
20
MACC & DOGHN

Some Shit Saaink

(double 12")

Subtle Audio

20 Aug 09
$11.05
Cat:

SUBTLE 003EP


Genre: Drum And Bass
21
PANGAEA

Memories

(1-sided 12")

unknown label

20 Aug 09
$7.19
Cat:

MEMORIES 001


Genre: Dirty Dubstep/Trap/Grime
22
EL RAKKAS

Seas Of Disease

(12")

Lo Dubs US

13 Aug 09
$9.94
Cat:

LODUBS 1209014


Genre: Deep Dubstep
23
DISCO NIHILIST

Everythang

(12")

Love What You Feel US

23 Jul 09
$8.83
Cat:

LWYF 001


Genre: Techno
24
SERUM vs VAPOUR

Live & Direct

(12" promo)

Critical Music

02 Jul 09
$6.62
Cat:

CRIT 040


Genre: Drum And Bass
25
LETHAL

Substixentialism

(12")

Position Chrome Germany

26 Jun 09
$7.19
Cat:

PC 074


Genre: Drum And Bass
26
NOAH D/ROOMMATE

The Witch Doctor

(12")

SCUM Recordings

08 May 09
$7.46
Cat:

SUBSCUM 001


Genre: Dirty Dubstep/Trap/Grime
27
UNTOLD

Sweat

(12")

Hotflush

29 Apr 09
$7.19
Cat:

HFT 006


Genre: Dirty Dubstep/Trap/Grime
28
SUKH KNIGHT

Knightlife

(12")

Nasha

17 Apr 09
$6.62
Cat:

NRV 12003


Genre: Dirty Dubstep/Trap/Grime
29
HOODZ

Bad Mind

(12'')

Lo Dubs US

19 Mar 09
$11.05
Cat:

LODUBS 1209011


Genre: Dirty Dubstep/Trap/Grime
30
HLZ

Get The Blues

(12")

Nu Directions

02 Feb 10
$6.62
Cat:

NU 12045


Genre: Drum And Bass