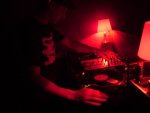 Freestyle 10/2010
Matthias Desch
22-October-2010
Presented by Matthias Desch, Edgar Strobl and Flo'alike in weekly rotation the bogaloo radio show definately lives of their intense love for good music with a certain edge usually cross-border. The name of the show goes back to legendary (is it ?) club bogaloo in Pfarrkirchen lower bavaria, where their musical interest was encouraged by international DJs of the "worldwide family" playing and throughout association with the spinning wheel record store next to the club. Later on they found themselves spinning records there, which led to the intention to spread their vibe around the globe, providing also a platform for underground music.

Thus the bogaloo radio show is occasionally spiced with guestmixes, live recordings and interviews of unknown and ambitious as well as established artists and DJs from here and outer space.

...expect some new, some old, some sparse, some bright, some sour, some sweet, some experimental - all of which is soulful in every respect.

... the bogaloo radio show... soul bogaloo...
Artist
Title
Label
Date

Price

1
MISTANOMISTA

Detroit Session

(12")

Black Sunshine France

14 Sep 10
$7.18
Cat:

BSR 001


Genre: Deep House
2
SHEPHEARD, Jay/TAD WILY

Retrofit #3

(12")

Retrofit

28 Oct 10
$6.62
Cat:

RETROFIT 3


Genre: Deep House
3
REBOOT JOY CONFESSION, The

Spirit Of The Planets

(12")

Philpot Germany

29 Sep 10
$11.00
Cat:

PHP 048


Genre: Deep House
4
DAM FUNK

Adolescent Funk

(CD)

Stones Throw US

21 Oct 10
$13.25
Cat:

STH 2239CD


Genre: Broken Beat/Nu Jazz
5
VOLCOV

Slam Jam Neroli 07

(12")

Slam Jam

21 Oct 10
$9.94
Cat:

SJNRL 07


Genre: Disco/Nu-Disco
6
DAVIS JR, Roy/OMAR S feat DJ B LEN D

All I Do

(12")

FXHE US

19 Oct 10
$10.78
Cat:

FXGANGSTA


Genre: Deep House
7
ERDBEERSCHNITZEL

To An End

(12")

Mirau Musik

22 Sep 10
$9.94
Cat:

MIRAU 011


Genre: Disco/Nu-Disco
8
SPACE DIMENSION CONTROLLER

Temporary Thrillz

(limited purple vinyl double 12" with 4 locked grooves + poster)

R&S

20 Oct 10
$33.15
Cat:

RS 1008PURPLE


Genre: Disco/Nu-Disco
9
RAUCH, Roman

Can't Get Enough EP

(12")

Tjumy Germany

05 Jun 10
$8.83
Cat:

TJY 008


Genre: Deep House
10
RECLOOSE

Early Works Sampler Part 2/2

(12")

Rush Hour Holland

20 Oct 10
$8.83
Cat:

RH-112-2


Genre: Deep House
11
SOIL & PIMP SESSIONS

Pop Korn (remixes)

(12")

Brownswood UK

21 Oct 10
$6.08
Cat:

BWOOD 059


Genre: UK Garage
12
SUZUKI, Kay

Altered State EP

(12")

Round In Motion

21 Oct 10
$6.62
Cat:

RIM 003


Genre: Broken Beat/Nu Jazz