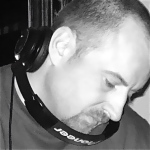 Latest 25 'Nu-Balearica' Favourites.
Chris Murray
27-July-2010
I started DJ-ing almost twenty years ago whilst studying at university, spinning House and Balearic Beats, but over-commercialisation equalled disillusionment, so I hung up the headphones to pursue other interests.
I recently returned to the decks however, inspired by some of the new 'Cosmic' melodic sounds emanating from Northern Europe.
My facebook group is "Chris Murray - DJ Mixes etc."
Artist
Title
Label
Date

Price

1
COYOTE/SMITH & MUDD feat RACHEL DAVIES

Ayahuasca

(12")

Is It Balearic

01 Jan 90
$7.72
Cat:

ISIT 009


Genre: Disco/Nu-Disco
2
D PULSE

Prekrasna EP

(12")

Theomatic

25 Nov 09
$8.83
Cat:

THEOM 012


Genre: Disco/Nu-Disco
3
TRIBUTE

We Love Leon

(1-sided 12")

Tribute

05 Nov 09
$7.72
Cat:

TRIBUTE 02


Genre: Disco/Nu-Disco
4
FORBIDDEN LOVE

Forbidden Love

(limited 1-sided transparent vinyl 12")

International Feel Uruguay

02 Dec 09
$8.83
Cat:

EFEEL 001


Genre: Disco/Nu-Disco
5
LINDSTROM/CHRISTABELLE

Baby Can't Stop

(1st 12")

Smalltown Supersound Norway

09 Dec 09
$10.99
Cat:

STS 17212


Genre: Disco/Nu-Disco
6
TIAGO

Tam Tam

(12")

Disco Devil Belgium

02 Dec 09
$8.83
Cat:

DD 009


Genre: Disco/Nu-Disco
7
REVENGE, The feat DANIELLE MOORE

Just Be Good To Me

(12")

Needwant

10 Dec 09
$7.18
Cat:

NEEDW 002


Genre: Disco/Nu-Disco
8
ESCAPE FROM NEW YORK

Fire In My Heart

(1-sided 12")

Escape From New York

20 Nov 09
$7.18
Cat:

FIMH 001LTD300


Genre: Disco/Nu-Disco
9
COSMIC BOOGIE

Feels Good (You Got The Love)

(12")

Disco Deviance

12 Nov 09
$7.72
Cat:

DD 011


Genre: Disco/Nu-Disco
10
ALIENS, The

The Sunlamp Show (Disco Bloodbath remix)

(12")

Channel 83

12 Nov 09
$7.72
Cat:

C 83002


Genre: Disco/Nu-Disco
11
ICHISAN/ILYA SANTANA/RAYKO

Space Disco Vol 1

(12")

Rare Wiri Spain

25 Nov 09
$9.93
Cat:

RW 004


Genre: Disco/Nu-Disco
12
ACOS COOLKAS

Free Flight

(12")

Nang

04 Dec 09
$6.08
Cat:

NANG 007


Genre: Disco/Nu-Disco
13
LARSE & FISH

Cesenatico

(12")

Conya Germany

17 Nov 09
$8.83
Cat:

CONYA 036


Genre: Deep House
14
EDDIE C

Rocket Science EP

(12")

Sleazy Beats Recordings

09 Dec 09
$8.83
Cat:

SB 001


Genre: Disco/Nu-Disco
15
NCAM

Handle This

(12")

Mystery Meat

08 Dec 09
$7.18
Cat:

MMEAT 002


Genre: Disco/Nu-Disco
16
SMALL TIME CUTS

Small Time Cuts Volume 2

(12")

Small Time Cuts France

16 Nov 09
$9.93
Cat:

STC 002


Genre: Disco/Nu-Disco
17
HALL & OATES

I Can't Go For That

(12")

RCA

10 Dec 09
$11.04
Cat:

PD-12459


Genre: Disco/Nu-Disco
18
HEADMAN/DAVID GILMOUR GIRLS/THE C90S

Relish EP Sampler

(12")

Relish

05 Nov 09
$7.18
Cat:

RR 036


Genre: Electro House
19
SPACE/ICHISAN/NAKOVA/SARE HAVLICEK/FOTO

Nang Presents The Array Vol 1

(12")

Nang

29 Oct 09
$6.62
Cat:

NANG 017


Genre: Disco/Nu-Disco
20
LTJ EXPERIENCE

Sound Machine

(12")

IRMA Italy

16 Nov 09
$12.14
Cat:

ICP 189


Genre: Disco/Nu-Disco
21
TIME & SPACE MACHINE, The

You Are The One

(12")

Tirk

19 Nov 09
$6.62
Cat:

TIRK 052


Genre: Disco/Nu-Disco
22
TREMOR

Caracol EP

(12")

ZZK US

12 Nov 09
$9.93
Cat:

ZZK 06


Genre: Broken Beat/Nu Jazz
23
MILLER, Jonny

Reckoner

(1-sided 12")

Fascinating Rhythms

30 Oct 09
$9.93
Cat:

FR 01


Genre: Balearic/Downtempo
24
ICHISAN

Space Patrol EP

(12")

Solardisco

27 Oct 09
$7.72
Cat:

SOLAR 12006


Genre: Disco/Nu-Disco
25
RED FULKA

EP 1

(limited 10")

Elevator People Holland

14 Oct 09
$9.93
Cat:

EP 001


Genre: Disco/Nu-Disco