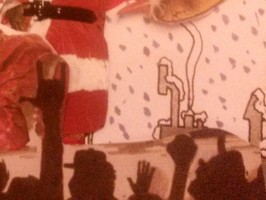 Pal.maSNS
05-December-2016
I host 'Saturday Night Sanctuary' which is my b-monthly residency (alongside Dj guests) at The Swan, King Street, Ipswich - Suffolk, UK.

Next one Christmas Special Saturday ((Night Special)) 10th December '16 start 9PM - close

The Bar is open til late so what gets played is at least 5 hours of quality Soul & Funk, disco, RAP gold 80s/90s.

Playing 100 per cent wax. 45's, 12" format.
Artist
Title
Label
Date

Price

1
DJ SUPREME

Supreme Legacy V1.5 Remix

(7")

Backbone US

20 Oct 16
$16.76
Cat:

LEGACY 015R


Genre: Hip Hop/R&B
2
COMBO CHIMBITA

El Corredor Del Jaguar

(7")

Names You Can Trust

27 Oct 16
$10.72
Cat:

NYCT 7030


Genre: International
3
DJ RED GREG/VARIOUS

Under The Influence Vol 1: A Collection Of Rare Soul & Disco

(gatefold 2xLP)

Z Records

18 Nov 11
$18.67
Cat:

ZEDDLP 024


Genre: Disco/Nu-Disco

Donnell Pitman - "Love Explosion"
KIC - "You Don't Want My Love"
Sophisticated Ladies - "This Ain't Really Love"
Beckie Bell - "Music Madness" (DJ Red Greg edit)
Andy Crown - "Why Do I Love You" (DJ Red Greg edit)
Lo-End - "Le-Beat"
Rim & Kasa - "Love Me For Real" (DJ Red Greg edit)
Miss Misty - "Right Size" (DJ Red Greg edit)
Lafayette Street - "Can You Dig It"
Chain Reaction - "Search For Tomorrow"
Panache - "Get Down! (To The Sweet Music)"
Aged In Harmony - "You're A Melody"
Del Richardson - "Rainbows" (jazz mix)

4
VAUDOU GAME

Pas Contente

(7")

Hot Casa France

23 May 14
$8.24
Cat:

HC 29


Genre: Funk
5
GEORGETTE/CLAUDIA

Kyrie

(limited 7")

Brazil 45s/Mr Bongo

01 Jun 15
$8.24
Cat:

BRZ 45 026


Genre: International
6
ED OG & DA BULLDOGS

I Got To Have It

(limited 7")

F5 US

03 Nov 16
$17.57
Cat:

F5 7 cs 001


Genre: Hip Hop/R&B
7
AFRICANO

Open Your Heart Part 1

(limited 7") (1 per customer)

Suncut

06 Oct 16
$10.17
Cat:

SCT 001


Genre: Disco/Nu-Disco
8
FIELDS, Lee/THE EXPRESSIONS

Make The World

(7")

Big Crown US

24 Oct 16
$10.98
Cat:

BC 0507


Genre: Funk
9
DEE, Jackie/OC TOLBERT

Who

(7" in hand-stamped sleeve)

First Light

01 Dec 15
$7.42
Cat:

FL 451


Genre: Funk
10
DOZIER, Lamont

You Made Me A Believer

(7")

Expansion

07 Nov 16
$8.52
Cat:

EX 7016


Genre: Soul