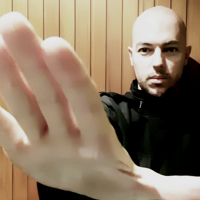 SwingPunk
Punkyhead
30-September-2014
www.punkyhead.com.br
www.facebook.com/punkyhead

DJ, producer, cultural helpmate and one of the responsible for the Brazilian breakbeat scene. Owner of the Anarchy In The Funk Records, the principal breakbeat label in Brazil dedicated to electro, drum & bass, big beat, funk and breaks. Easily found in the main events of the genre, his sets move through electro breaks, hip hop, funky and house. Classic mix skills and extensive repertoire, with personality and innovation, as a result of an incessant research in the world of music.

Influenced by the 1990's music scene, admirer, researcher and consumer, he has improved his mixing techniques dedicating himself exclusively to vinyl and its peculiarities. A versatile artist, with vast musical knowledge, incorporating current trends, but not giving up the old school, converting its main references in experiments.

Active for over ten years, Punkyhead has played at major clubs in Brazil and devoted himself to events that have been consolidated on a narrow and uniform scenario. His releases for the label Anarchy In The Funk became bestsellers and won highlights charts in the best music stores, as the excellent "Reservoir Dogs", funky break track produced in partner with the talented Tuca Flash aka Br Groove.

His works go beyond the clubs, stages and studios. In addition to developing the visual art of their releases and events, Punkyhead has been one of the contributor to the one of the world's leading schools for electronic music production, DJing and performance; AIMEC - International Academy of Electronic Music. With courses aimed at training professionals, the organization promotes the training of human resources in the various fronts of the electronics scene.
Artist
Title
Label
Date

Price

1
EGYPTIAN LOVER, The

Party

(12")

Egyptian Empire US

12 Feb 05
$12.13
Cat:

DMSR 2221


Genre: Electro
2
SOUND OF MIND aka ERIK TRAVIS

Man Machine Pt 1

(12")

Program Central US

06 Feb 13
$18.49
Cat:

PC 1984


Genre: Electro
3
VINER, Michael & HIS INCREDIBLE BONGO BAND

Bongo Rock

(7")

Mr Bongo

26 May 11
$6.90
Cat:

MRB 7043


Genre: Funk
4
MIOTEK/SALMZ

First Contact EP

(12")

Seven Sisters

14 Jan 14
$8.82
Cat:

7SR 005


Genre: Electro
5
RADIOACTIVE MAN/ACID MOTHERS TEMPLE/MORDANT MUSIC/ALEXANDER TUCKER

Piercing Brightness (Soundtrack) (Radioactive Man remixes)

(hand-stamped 12")

City Projects

28 Nov 13
$7.18
Cat:

PSB 002


Genre: Soundtracks
6
VANUCCI, Aldo

Love Is Loops Vol 1

(heavyweight vinyl 12")

Good Living

01 Nov 12
$6.35
Cat:

GLRE 008


Genre: Breakbeat
7
VIBERT, Luke

Ridmik

(2xLP)

Hypercolour

04 Apr 14
$18.49
Cat:

HYPELP 002


Genre: Minimal/Tech House
8
MC DUKE

I'm Riffin

(12")

Fat Hop

08 Apr 13
$7.72
Cat:

FATHOPSPECIAL 005


Genre: Hip Hop/R&B
9
HARDFLOOR

PELF

(12")

Hardfloor Germany

11 Sep 14
$8.82
Cat:

HF 020


Genre: Electro
10
ALKAN, Erol

Check Out Your Mind (U version)

(12")

Phantasy Sound

05 Apr 14
$8.82
Cat:

PH 32RMX1


Genre: Techno