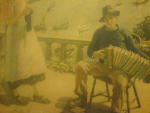 Casual Club
Michael Page
16-April-2012
http://www.junodownload.com/products/deepdisco-ep/1890323-02/

Joe's Bakery meets Nation of Shopkeepers
6 May at 16:00 at Nation of Shopkeepers Leeds England.

Joe's Bakery is on maneuvers! we are doing a series of one off parties around the city until we move into our new home



later in the year...
Our first party is at Nation of Shopkeepers ...Bank Holiday Sunday 6th May.

We take over the courtyard from 4 o clock in the afternoon,where we will be doing a bbq and playing beautiful music on the terrace,hopefully in the Sunshine?

Our special guests will be SALINAS JOCKEY CLUB...aka SOFT ROCKS......

Salinas Jockey Club is a new project from Chris Galloway and Andy Simms of Soft Rocks....The project is more Balearic Sunset music aimed at the listener to enjoy and relax to...Perfect for a lazy afternoon in the sun...

MUSIC...BALEARIC BEATS & COSMIC CURVEBALLS

DJS..CRAIG CHRISTON & JOE GILL
ANDY PYE (BALEARIC SOCIAL RADIO)
CASUAL MIKE (CASUAL CLUB)
ANGUS & LEO

PURVEYORS OF FINE UNDERGROUND MUSIC....

More info 07906181577

Check out joesbakery.org for an exclusive guest mix from Salinas Jockey Club

THIS IS A FREE EVENT.......
Artist
Title
Label
Date

Price

1
DUKE SLAMMER

What Four?

(limited clear vinyl 7")

Bonus7

27 Jan 12
$7.73
Cat:

BONUS 7-002


Genre: Broken Beat/Nu Jazz
2
BLACK COCK

Frog Scene

(180 gram vinyl 12")

Black Cock

06 Mar 09
$7.73
Cat:

BK 076


Genre: Disco/Nu-Disco
3
MAM

Modern Heat EP

(12")

Fina

27 Jan 12
$7.73
Cat:

FINA 006


Genre: Deep House