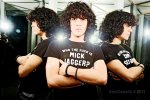 45 rpm Summer 2011
DJ HULK
24-July-2011
DJ Hulk is a music lover and a dedicated 7 inch 45 rpm record collector.
You can find him spinning vinyl in Madrid every weekend at La Huelga Bar in the area of Lavapies, and in the Costello Club in the Gran Via area.
You can also bump and rump with him in some other night spots as The Tupperware Club in Malasaña and The Turmix in Valencia city.
Focusing on the new and the upcoming, his record box is full of Indie sounds and classic tunes.
In the sheer belief that young bands and small labels need support and encouraging DJ Hulk throws all of his pocket money at their vinyl releases.
Artist
Title
Label
Date

Price

1
FRESH & ONLYS, The

Impending Doom

(limited 7")

Agitated US

06 Aug 10
$6.08
Cat:

IMS O002


Genre:
2
ART MUSEUMS

SHOPPING

(7")

Dulc-i-tone US

20 May 11
$7.18
Cat:

TT 014


Genre: Indie
3
CHEAP TIME

Another Time

(7")

Cass

04 May 11
$7.18
Cat:

MAMA 057


Genre:
4
CRYSTAL STILTS/COMET GAIN

Working Circle Explosive

(blue vinyl 7")

Slumberland US

04 May 11
$6.62
Cat:

WISH 16


Genre:
5
GANGLIANS

Blood On The Sand

(7")

unknown label US

05 Oct 09
$7.18
Cat:

CT 026


Genre:
6
SEGALL, Ty

My Sunshine

(7")

Trouble In Mind US

23 Nov 09
$6.62
Cat:

TIM 008


Genre:
7
XRAY EYEBALLS

Crystal

(7")

HoZac US

08 Mar 11
$8.83
Cat:

HZR 081


Genre: Indie
8
SHELDON, Sandi

You're Gonna Make Me Love You

(7")

Outta Sight

07 Jul 11
$7.73
Cat:

OSV 031


Genre: Funk
9
CARTER, Dean

Rebel Woman

(7")

Ethbo

22 Jul 11
$8.83
Cat:

ETHB 09


Genre:
10
LUMAN, Bob

Boston Rocker

(7")

Capitol US

22 Jul 11
$8.83
Cat:

F 3972


Genre: