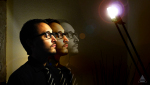 This is summer
KermAn
04-August-2013
Resident dj of La Couleur de la Culotte since 2007, he imposes his style of mixing house, disco, deep house, alternative music and techno. He jointly manages the artistic direction of the bar along with the challenge of creating a new "rendez-vous" with electronic music especially with his monthly party "LocoMotiv", where he regularly invites national and international djs.
Under his leadership, over the past 3 years many djs have followed behind the decks of La Couleur de la Culotte such as: Nina Kraviz, Alexkid, The Mole, Oskar Offerman, Rodriguez Jr, Anthony Collins, Guti, D'julz, Yakine, Melle Caro, Francisco Allendes, Le Loup, Alex Celler, Alland Byallo, Varoslav, LamAche et Andrade....

Warm and groovy at will, from 110 to 125 BPM, his music draws attention from a simple listening and serves as a guide to the most experienced steps.
Artist
Title
Label
Date

Price

1
BLACK JAZZ CONSORTIUM

Codes & Metaphors 2

(12")

Soul People Music US

15 Jan 13
$11.05
Cat:

SOULPEOPLEMUSICCM 002


Genre: Deep House
2
TURNER, Chris

FlyLOVE (Andres remix)

(hand-stamped white vinyl 10")

Rebirth

01 Aug 13
$9.40
Cat:

REBLTD 001


Genre: Deep House
3
MORGUN/SHINE GROOVES/CUISINE DUB/DADA QUES/A5

Udacha 6

(12")

Udacha

27 Jun 13
$8.84
Cat:

UDACHA 006


Genre: Deep House
4
HINODE/MARIEU

Punch In The Face

(12")

Enlightened Wax Germany

14 Jan 13
$8.57
Cat:

ENW 003


Genre: Deep House
5
FIELD, Jordan

Ana's Dream EP

(12")

Hold Youth France

29 May 13
$8.57
Cat:

HY 008


Genre: Deep House
6
EAST END DUBS

Tools Vol 1

(12")

East End Dubs

22 Jul 13
$9.68
Cat:

EEDV 001


Genre: Minimal/Tech House
7
PADICE, Rio

Tropical Interlune

(LP)

Early Sounds Italy

03 Jul 13
$12.16
Cat:

EAS 003


Genre: Deep House
8
PARANOID LONDON

Paris Dub 1

(12")

Paranoid London

29 Aug 12
$12.72
Cat:

PDON 004


Genre: Techno
9
FATIMA (FLOATING POINTS PRODUCTION)

Follow You

(12")

Eglo

12 May 11
$8.02
Cat:

EGLO 14


Genre: Broken Beat/Nu Jazz
10
TROUBLE MAN/THE LITCHEES

DJ Reverend P Edits 1

(12")

Gamm

08 Jul 13
$8.30
Cat:

GAMM 086


Genre: Soul