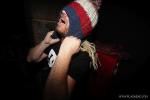 TOBYONE (FUNKROYALE. UK) & (PINCHO SOCIAL CLUB. PT) APRIL CHART 2012
Tobyone
04-April-2012
BRAND NEW AND STONE COLD VINYL CHART. APRIL EDITION

TEN ALBUMS YOU SHOULD OWN. (11 it turns out!!) If they are out of stock get the muthers re-ordered!!!

FUNKROYALE RESIDENCY @ NOTTINGHILL ARTS CLUB, LONDON EVERY 3RD FRIDAY OF THE MONTH FT GUEST DJS AND LIVE ACTS. STILL ROCKING 100% VINYL.
Artist
Title
Label
Date

Price

1
J DILLA aka JAY DEE

Donuts (Donut Sleeve)

(2xLP)

Stones Throw US

02 Feb 06
$22.92
Cat:

STH 2126LP


Genre: Hip Hop/R&B

Donuts Outro
Workinonit
Waves
Light My Fire
The New
Stop
People
The Diff'rence
Mash
Time: The Donut Of The Heart
Glazed
Airworks
Lightworks
Stepson Of The Clapper
The Twister (Huh, What)
One Eleven
Two Can Win
Don't Cry
Anti-American Graffiti
Geek Down
Thunder
Gobstopper
One For Ghost
Dilla Says Go
Walkinonit
The Factory
U Love
Hi
Bye
Last Donut Of The Night
Donuts (outro)

2
CAMP LO

Uptown Saturday Night

(2xLP)

Traffic US

29 Apr 10
$26.24
Cat:

TEG 78503


Genre: Hip Hop/R&B

Krystal Karrington
Luchini aka This Is It
Park Joint
B-Side To Hollywood (feat Trugoy The Dove os De La Soul)
Killin' Em Softly
Sparkle
Black Connection
Swing (feat Ish aka Butterfly)
Rockin' It aka Spanish Harlem
Say Word (feat Jungle Harlem)
Negro League (feat Bones & Karachi RAW)
Nicky Barnes aka It's Alright (feat Jungle Brown)
Black Nostaljack aka Come On
Cool If High
Sparkle (Mr Midnight mix)

3
GAYE, Marvin

What's Going On

(LP)

Tamla Motown

01 Jan 90
$15.19
Cat:

276822 7


Genre: Funk
4
LED ZEPPELIN

Led Zeppelin II

(200 gram vinyl LP)

Atlantic US

01 Jan 90
$0.00
Cat:

CMD 8236


Genre:
5
PHARCYDE, The

Bizarre Ride II The Pharcyde: The Singles Collection Music Box: Record Store Day

(7 x coloured vinyl 7" + 2xCD + 21'' x 28'' poster + 120 piece jigsaw puzzle + liner notes + vintage photos)

Delicious Vinyl US

23 Apr 12
$61.85
Cat:

DV7749-7


Genre: Hip Hop/R&B

Ya Mama (single version)
Ya Mama (instrumental)
Ya Mama (acappella)
Ya Mama (Matt Dike remix)
Ya Mama (J-Sw!ft remix)
Ya Mama (J-Sw!ft remix instrumental - UK edition)
Soul Flower (remix - single version)
Soul Flower (remix - instrumental)
Soul Flower (remix - acappella)
Soul Flower (remix - Wrong Tree remix)
Passin' Me By (single version)
Passin' Me By (instrumental)
Passin' Me By (acappella)
Passin' Me By (Brixton Flavour remix)
Passin' Me By (Summa Madness Edition - Fly As Pie mix)
Passin' Me By (Summa Madness Edition - Fly As Pie instrumental)
Otha Fish (single version)
Otha Fish (instrumental)
Otha Fish (acappella)
Otha Fish (The Heavy-Head OG mix)
4 Better Or 4 Worse (single version)
4 Better Or 4 Worse (instrumental)
4 Better Or 4 Worse (acappella)
Ya Mama (single version)
Ya Mama (instrumental)
Ya Mama (acappella)
Ya Mama (Matt Dike remix)
Ya Mama (J-Sw!ft remix)
Ya Mama (J-Sw!ft remix instrumental)
Soul Flower (single version)
Soul Flower (instrumental)
Soul Flower (acappella)
Soul Flower (Wrong Tree remix)
Passin' Me By (single version)
Passin' Me By (instrumental)
Passin' Me By (acappella)
Passin' Me By (Brixton Flavour remix)
Passin' Me By (Fly As Pie mix)
Passin' Me By (Fly As Pie instrumental)
Otha Fish (single version)
Otha Fish (instrumental)
Otha Fish (acappella)
Otha Fish (The Heavy-Head OG mix)
4 Better Or 4 Worse (single version)
4 Better Or 4 Worse (instrumental)
4 Better Or 4 Worse (acappella)
I'm That Type Of Nigga (Straight Up Faded mix - bonus track)

6
BYRD, Danny

Rave Digger

(double 12")

Hospital

07 Oct 10
$12.14
Cat:

NHS 176L


Genre: Drum And Bass
7
WONDER, Stevie

Talking Book

(gatefold LP)

Mobile Fidelity Sound Lab Inc US

08 Jun 11
$38.65
Cat:

MOFI 1-009


Genre: Soul
8
MOHAWKE, Hudson

Satin Panthers

(LP)

Warp

28 Jul 11
$8.83
Cat:

WAP 313


Genre: Bass
9
TOOTS & THE MAYTALS

Funky Kingston

(180 gram heavyweight vinyl LP + MP3 download code)

Island

26 Feb 09
$18.77
Cat:

5313006


Genre: Classics/Ska
10
ULTIMATE BREAKS & BEATS

Ultimate Breaks & Beats Instrumentals Vol 2

(2xLP)

Traffic Entertainment Group US

05 Aug 09
$18.77
Cat:

TEG 3320


Genre: Hip Hop/R&B