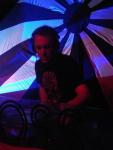 Hardtech chart
6head_slug
27-September-2008
6head_slug is a Melbourne (Australia) based DJ/Producer, who has been bringing his own unique blend of hard and funky techno beats to Melbournes dance floors over the past couple of years.

The beat of the drum and his love for music has driven him from a young age, although It wasn't until 2004 when he brought a set of turntables and his first few records did he realize that it was what he wanted to do with his life.

Since then he has been refining his sound, and pushing forward in the hope of inspiring others, preaching that 'you don't need to change who you are to fit in in this world...'

You can catch him playing at club nights, outdoor parties and larger scale events, playing anything from one of his trademark Hardtech/Schranz and Acid techno sets, through to deep Prog and Electro under his new 'SLuG' alias.

2008 see's 6head_slug more focussed than ever, as he looks forward to the coming year ahead and all that it brings!
Artist
Title
Label
Date

Price

1
BORIS S

Get Wicked

(12")

Inflicted Germany

02 Sep 08
$8.78
Cat:

INFLICTED 17


Genre: Techno
2
LEXIS

Hyperkalaemia EP

(12")

Cardiac Arrest Slovenia

14 May 08
$8.78
Cat:

CARDIAC 009


Genre: Hard Techno
3
FL X

Behind Reality

(12")

Animasola Germany

04 Mar 08
$8.78
Cat:

ANIMASOLA 005


Genre: Hard Techno
4
COUSTEAU, Marcel/ALEX TB/TRB/NORTECH/BUCHECHA

Marcel Cousteau & Friends

(12")

TechnoPride Brazil

24 Sep 08
$8.78
Cat:

TECHNOPRIDE 002


Genre: Hard Techno
5
FLX

Aligozinoza

(12")

Arcussinus Germany

05 Mar 08
$8.78
Cat:

ARCUSSINUS 002


Genre: Techno
6
SEPROMATIQ

Grosse Katastrophe

(12")

Animasola Germany

14 Nov 07
$8.78
Cat:

ANIMASOLA 004


Genre: Hard Techno
7
KVITTA, Frank/BAZZ DEE/SEEMA/BEN KAISER/ALEX S

Yogi

(12")

USB Bulgaria

17 Sep 08
$8.78
Cat:

USB 002


Genre: Techno
8
DJ OGI/ALEX TB/LEXIS

The Pride Arrived!

(12")

TechnoPride Brazil

20 Feb 08
$8.78
Cat:

TECHNOPRIDE 001


Genre: Hard Techno
9
SORGENKINT/SALVA feat BORIS S

Voll Drauf

(12")

Frown

26 Aug 08
$8.78
Cat:

FROWN 005


Genre: Techno
10
WITTEKIND, Sven

I Stay Hard

(10")

Sven Wittekind Germany

15 Jul 08
$7.68
Cat:

SWR 03


Genre: Techno