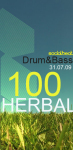 THE HERBAL SESSION CHILE
TECHNICALS DJ ACADEMY
08-August-2009
The Herbal session with DJ A*pascal is a party in the city patrimonial of the humanity "Valparaiso" where you can listen drum and bass the whole night, the people who meets(competes) to these sessions they are very fresh underground and also very much people prefer being dancing here as if nothing was mattering

Dj Apascal. is a very particular guy that prefers touching with vinyl.

The best thing of his set always you can listen and see in 12 " in Herbal session"
Artist
Title
Label
Date

Price

1
LYON FIYA

Truth & Rights

(12" promo)

Boss (drum n bass)

20 Apr 09
$6.63
Cat:

BOSS 003


Genre: Drum And Bass
2
SUBPLATE

Danger

(12")

Subplate (drum & bass)

30 Sep 09
$7.74
Cat:

SUBPLATE 001


Genre: Drum And Bass
3
NOSLIW

Immer Wieder Horen

(12")

Have A Break Germany

23 Mar 08
$6.63
Cat:

HAB 011


Genre: Drum And Bass
4
DIGITAL SOUNDBOY/DJ FRESH

Heavyweight

(12")

Digital Soundboy

04 Sep 09
$7.74
Cat:

SBOY 022


Genre: Drum And Bass
5
COMPUTER CLUB/THE FIX

Load Rocket

(12")

Human Imprint US

05 Aug 09
$7.74
Cat:

HUMA 8028


Genre: Drum And Bass
6
FURLONGE

High Commision

(12")

Viper VIP

05 Aug 09
$7.74
Cat:

VIPERVIP 008


Genre: Drum And Bass
7
HABARNAM, Dan/TYLER STRAUB

Zoom Back Camera

(12")

Santorin Germany

05 Aug 09
$8.84
Cat:

SAN 029


Genre: Drum And Bass
8
NOISIA

The Bells Of

(12")

Metalheadz

05 Aug 09
$7.74
Cat:

METH 079


Genre: Drum And Bass
9
NAIBU

Screens

(12")

Fokuz

30 Jul 09
$8.84
Cat:

FOKUZ 036


Genre: Drum And Bass
10
SKC/DIS

Rush

(12")

Tactile Recordings

31 Jul 09
$7.19
Cat:

TACTV 003


Genre: Drum And Bass