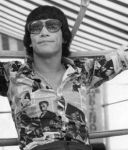 East Village Hustle Chart
Guille Bonesso
07-August-2009
Upcoming Shows:
------------------
9th Aug 2009: The French riviera club@ The Player.
16 Aug 2009: A fete worse than death! with Damon Martin (dbb) Nathan G Wilkins. London.
22 Aug 2009: Hustle re launch with Joe lye and Bad passion@ Horse and Groom London
11 Sep 2009:Hustle @ Horse and Groom. London.
17 Sep 2009: "Audiographic Discodelia" With Los Charly's Orchestra LIVE. @ Sosho. London
30 Oct 2009: Halloween special With Special guest@ Horse and Groom. London.
Artist
Title
Label
Date

Price

1
WANG, Daniel

I Was A Disco Malcontent: The Best Of Balihu Records

(2xLP)

Oxygen Music Works US

26 Sep 98
$14.35
Cat:

OMWULP 2


Genre: Disco/Nu-Disco
2
GREEN, Brennan

My First House

(12")

The Wurst Music Co

21 Jul 09
$11.04
Cat:

WET 1007


Genre: Disco/Nu-Disco
3
OOFT/THE REVENGE

Part Three

(12")

Instruments Of Rapture

24 Jul 09
$7.72
Cat:

IOR 003


Genre: Disco/Nu-Disco
4
PHORESKI

Proud To Be A Joker

(12")

Fat Fuk

11 Jan 10
$5.51
Cat:

FF 003


Genre: Disco/Nu-Disco
5
TUCCILLO

Panorama

(12")

Delusions Of Grandeur

09 Jul 09
$7.72
Cat:

DOG 04TP


Genre: Disco/Nu-Disco
6
SHIT ROBOT

Simple Things (Work It Out)

(12")

DFA US

21 Jul 09
$6.67
Cat:

DFA 2214US


Genre: Disco/Nu-Disco
7
SOCIAL DISCO CLUB/MAIA

The Way You Move

(12")

Bear Funk

17 Jul 09
$6.62
Cat:

BFK 040


Genre: Disco/Nu-Disco
8
ELITECHNIQUE

Munich Emotions

(12")

Clone Loft Series Holland

10 Jun 09
$8.83
Cat:

CLSS 02


Genre: Disco/Nu-Disco
9
CHAMBOCHE

Ipso Facto (repress)

(12")

Under The Shade/Jiscomusic

11 Aug 10
$7.18
Cat:

UTS 001


Genre: Disco/Nu-Disco
10
HIPSTERS

Remember

(12")

Hell Yeah Italy

18 Jun 09
$8.83
Cat:

HYR 70296


Genre: Funky/Club House