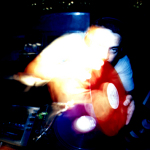 J R Mahr
01-July-2008
José Roberto Mahr is one of the groundbreaking DJ's in the Brazilian electronic and indie rock scene. Mahr started deejaying in April 1984, bringing the club scene vibe to his legendary radio show New Trends. For many years, the show presented the hippest new trends emerging on the international music scene to Brazilian audiences. New Trends was first broadcast by Estácio FM – RJ (1984), quickly picked up by other radio stations, and eventually transmitted via satellite to 23 cities. At the time, it was one of few shows to present weekly releases and alternative tracks. The show stayed loyal throughout to its original concept, launching new bands every week and covering various musical styles. New Trends was last presented in 1998.

Currently, Mahr is producing Stereozero with DJ Cobra, every Saturday at 00, www.00site.com.br and Rock it!, a party that takes place every month at Marun. He also spins at clubs like Fosfobox and Dama de Ferro, in Rio; Vegas, A Lôca, D. Edge and Soul Sister, in São Paulo, playing new releases and music sets designed to take clubbers on a real trip to new vistas in electronic music. Occasional hit revivals mix past, present and futurism in unique musical textures of electronic beats.

JRM has also created the soundtrack for some theatrical plays, including the Brazilian versions for Trainspotting, and A Clockwork Orange, both produced in Rio de Janeiro; and Vamos fazer uma festa enquanto o dia não chega (Let's have a party before dawn), by Brazilian writer Caio Fernando de Abreu.
Music non stop!
Artist
Title
Label
Date

Price

1
HERBERT, Pete

Don't Let Go

(12")

Disco Deviance

16 May 08
$7.19
Cat:

DD 04


Genre: Disco/Nu-Disco
2
40 THIEVES

Don't Turn It Off

(12")

Permanent Vacation Germany

11 Apr 08
$8.83
Cat:

PERMVAC 0231


Genre: Disco/Nu-Disco
3
DORIA, Andrea vs LXR

Beauty Of Silence

(12")

Tiger Germany

20 Feb 08
$8.83
Cat:

TIGER 57


Genre: Minimal/Tech House
4
PADDED CELL

Night Must Fall

(2xLP)

DC Recordings

16 May 08
$15.47
Cat:

DCR 72LP


Genre: Disco/Nu-Disco
5
CICADA

Same Old Scene

(12")

Critical Mass

27 Mar 08
$6.08
Cat:

CRITICAL 051


Genre: Electro House
6
KANO

Mission 5

(12")

Vintage France

20 May 08
$8.83
Cat:

VR 105


Genre: Disco/Nu-Disco
7
PURE SCIENCE

Moon Beam

(12")

PS Communications

10 Apr 08
$7.19
Cat:

PS 008


Genre: Minimal/Tech House
8
EDIT THE EDIT

Two Sides Of Sympathy

(12")

Edit The Edit

14 Sep 07
$7.73
Cat:

ETE 001


Genre: Disco/Nu-Disco
9
CUT COPY

Lights & Music

(12")

Universal

01 May 08
$5.52
Cat:

MODVL 82


Genre: Electro House
10
SOCCIO, Gino

Try It Out

(12")

Atlantic US

01 Jan 90
$11.05
Cat:

DMD 269


Genre: Disco/Nu-Disco