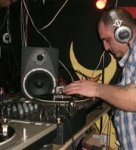 Mick Dundee's tunes!!!!!!!!!!!
Mick Dundee
11-May-2011
BCB 106.6fm every Friday @ 11pm Unknown Zone. www.bcbradio.co.uk
Saturday 14th May @ 12am world time on www.wtnrradio.com
Tguclub (Trance-Global-Underground) @ Chino Thai Centenery Sq Bradford 3rd Sat of every month. These are the tunes that i am currently playing out and on air, enjoy!!!!!!!!!!!
Artist
Title
Label
Date

Price

1
HTUK

HTUK 5

(1-sided white label 12")

Hard Timez

07 Jan 05
$5.51
Cat:

HTUK 5


Genre: Hard Trance
2
COHESIVE

Follow Me

(12")

Compulzion

13 Jan 09
$6.08
Cat:

CMZ 001


Genre: Hard Trance
3
EMPHASIS

Space Traveller

(12")

Wicked Tunes Germany

13 Apr 05
$8.83
Cat:

WT 2005-018


Genre: Hard Trance
4
LEUNG & WAN feat JESSICA CHUNG

Still Moment

(12")

Tunnel Germany

21 Sep 05
$8.83
Cat:

TR 3097


Genre: Uplifting Trance
5
DARK SUCKER

Purple Moon

(12")

Anthem Italy

22 May 07
$8.83
Cat:

ATH 125


Genre: Hard Trance
6
ANTONELI, Luca vs ANDREA MONTORSI

Free

(12")

S Trax

06 May 09
$6.08
Cat:

S-TRAX 013


Genre: Uplifting Trance
7
FORBES, David meets WILLIAM DANIEL

Devils Theory

(12")

Tetsuo Music Germany

10 Feb 10
$8.83
Cat:

TETS 114


Genre: Uplifting Trance
8
GATTY/SINITH meets DJ THERA/ULTRAFORM presents DEAL/BUSHO vs THERA

Therabyte EP

(12")

German Trance

05 May 10
$6.08
Cat:

GT 015


Genre: Hard Trance
9
VENOM presents KASUMA

Dreaming

(12")

G Tracks Spain

17 Feb 05
$8.83
Cat:

G12 25


Genre: Pop Trance
10
HILL, Steve/TECHNIKAL/DARK BY DESIGN

World Series: Cape Town

(12")

Masif

21 Apr 09
$6.08
Cat:

MASIFWORLD 6


Genre: Hard Trance
11
LASHES, Lisa vs ALEX KIDD/KIDD KAOS

Disarray

(12")

Lashed Music

08 Sep 09
$6.08
Cat:

LL 008


Genre: Hard House
12
MADAGASCAR

Madagascar 2009

(1-sided 12")

unknown label Holland

20 May 09
$8.83
Cat:

AOT 001


Genre: Uplifting Trance
13
MENTAL MIRACLE vs COOL GREY

Gaelic

(1-sided 12")

Anthem Italy

25 Apr 08
$8.83
Cat:

ATH 131


Genre: Hard Trance
14
SLIP FRICTION/CHEAP EMOTIONS

Crazy

(12")

Mondo

26 May 05
$5.51
Cat:

MND 013


Genre: Uplifting Trance
15
OCEANLAB

Satellite

(12")

Soundpiercing Holland

01 Jan 90
$8.83
Cat:

SPC 005


Genre: Uplifting Trance
16
YORK, Phil

Stage Rage

(12")

Tranzlation

12 Jan 06
$6.08
Cat:

TRAN 006


Genre: Hard Trance
17
ADVENT, The/MICHAELANGELO

Shifting Reality

(12")

Labrynth US

14 Feb 08
$8.83
Cat:

LABRYNTH 9


Genre: Techno