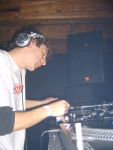 October_Selections!
Jon Hussey
08-October-2011
Jon Hussey has been DJing since '93 kick-starting in the now infamous Planet Dub night on Sir John Rogerson's Quay (Columbia Mills). Over the years Jon has both promoted and resided a number of Techno clubs throughout the Country as-well as playing in the many Techno havens around europe from as far a field as Slovakia, back to Germany, Italy, London and to more recently playing at the infamous Detatched Techno night in Leeds & Robot Army in Berlin...
Over the years Jon has also helped establish, run and tutor on various DJ technique/skills courses around the city from college level to youth projects passing on his knowledge & commitment for DJing & Techno which is his Preferred style. Jon has also got to support and play alongside many of his all time favourite artists like Surgeon, Joey Beltram, Loktibrada, Inigo Kennedy, Biosphere, Steve Bicknell, Reeko, Grovskopa, Rumenige, DJ Boss, Bas Mooy, Carlos Rios, Exium, Michaelangelo, Miller & Keane...

2FM Late Night session Blog excerpt "Jon is one of the longest serving true purveyors of techno in Ireland, running nights in the early days of Dublin's dance scene, when techno to most people meant U96 or 2 Unlimited. Consistently one of the best djs around, Jon never lets the side down" gives a great insight into Jon as a DJ.
Artist
Title
Label
Date

Price

1
TRICAUSTIC

Caustiphobic Pressure EP

(12")

Komisch

05 Oct 11
$7.73
Cat:

KOMISCH 009


Genre: Techno
2
PLANETARY ASSAULT SYSTEMS

The Messenger

(2xLP)

Ostgut Ton Germany

20 Oct 11
$17.41
Cat:

OSTGUTLP 10


Genre: Techno
3
RIVET

Running Thick

(12")

Naked Index

26 Sep 11
$8.83
Cat:

NI 03


Genre: Techno
4
FROZEN BORDER

Frozen Border 9

(12")

Frozen Border

26 Sep 11
$9.94
Cat:

FB 09


Genre: Techno
5
END OF ALL EXISTENCE, The

The Final Hours

(12")

The End Of All Existence Germany

01 Feb 11
$9.94
Cat:

END 111


Genre: Techno
6
ASC/LB DUB CORP aka LUKE SLATER

Parallel Series 1

(12")

Mote Evolver

21 Sep 11
$8.83
Cat:

MOTE 026


Genre: Techno
7
VAN ABBE, Albert

No Comment_0002

(12")

No Comment Holland

28 Apr 11
$11.04
Cat:

NOCOMMENT 002


Genre: Techno
8
BAER, Henning

Fierce Hundred EP

(12")

K209 Germany

20 Sep 11
$10.22
Cat:

K209 2/64067


Genre: Techno
9
PACOU

Sense EP

(12")

Tresor Germany

20 Oct 11
$6.62
Cat:

TRESOR 246


Genre: Techno
10
PARKER, Mike

Thermo

(12")

Semantica Spain

15 Nov 11
$9.94
Cat:

SEMANTICA 32


Genre: Techno