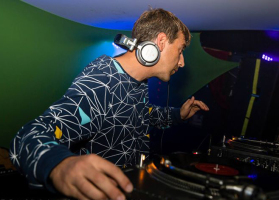 October_Selections 2018!
Jon Hussey
18-October-2017
Jon Hussey, a pioneer of the Irish Techno scene DJing since the early nineties, kick-starting at the infamous Planet Dub night in Dublin. He has promoted and resided at many Techno clubs throughout Ireland as well as playing in many Techno havens across Europe including London, Bratislava, Berlin, Leeds and Torino.

2FM Late Night session Blog excerpt "Jon is one of the longest serving true purveyors of techno in Ireland, running nights in the early days of Dublin's dance scene, when techno to most people meant U96 or 2 Unlimited. Consistently one of the best djs around, Jon never lets the side down" gives a great insight into Jon as a DJ.
Artist
Title
Label
Date

Price

1
DEFEKT

VHS Romance

(12")

Zone

25 Jan 18
$17.96
Cat:

ZONE 31


Genre: Electro
2
HUSSEY, Jon/FRAN HARTNETT/RORY ST JOHN

Morphic Resonance

(12")

RLSD Ireland

12 Oct 17
$11.04
Cat:

RLSD 002


Genre: Techno
3
REGIS

Live In NYC

(limited transparent red vinyl 12")

Cititrax/Minimal Wave US

11 Oct 17
$17.41
Cat:

CITI 023


Genre: Techno
4
PLANETARY ASSAULT SYSTEMS

Deep Heet Vol 4

(12")

Mote Evolver

16 Mar 18
$9.67
Cat:

MOTE 050


Genre: Techno
5
OAKS, Hector

Cinco

(clear vinyl 12")

Oaks Germany

29 Sep 17
$8.83
Cat:

OAKS 05


Genre: Techno
6
RAW AMBASSADOR

Terrore

(12" + hand-numbered insert limited to 300 copies)

Reach Another System Germany

16 Jan 17
$10.50
Cat:

RAS 002


Genre: Techno
7
BLAWAN

Nutrition

(2xLP) (1 per customer)

Ternesc

18 Oct 17
$17.13
Cat:

TESC 004


Genre: Techno
8
INDUSTRIALYZER

Analog Planet

(180 gram vinyl 12")

Synewave US

09 Oct 17
$8.83
Cat:

SW 121


Genre: Techno
9
BIRKEN, Paul

Drool Puddle Yacht Club EP

(clear vinyl 10")

Don't

04 Oct 17
$9.12
Cat:

DONT 036


Genre: Techno
10
AND/SUNIL SHARPE/EOMAC/FRAN HARTNETT

DSNT 005

(limited numbered hand-stamped vinyl 12")

DSNT

21 Jun 17
$11.88
Cat:

DSNT 005


Genre: Techno
11
CIREZ D

The Accuser

(blue vinyl 12")

Mouseville

20 Sep 17
$11.04
Cat:

MOUSE 023


Genre: Techno