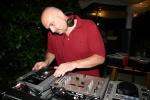 My fav ones
Alberto Ghisellini Aka Ghis.A
21-August-2008
Alberto Ghisellini is a well known italian dj.
He has started playing music since he was young at the end of seventies when the Disco phenomenon was growing up.
He has played on such many clubs but he likes to mention some of them like: the historical and the unforgettable Matilda(Jesolo) during the black fridays in the mid of nineties, Glamour(Tv),Nec Ente(Tv),Tag(Mestre Ve) Soundcode(Mestre Ve)etc.
His love for the music makes him still working with a lot of enthusiasm that's why he is still a requested dj especially for exclusive and private parties. He is working on small clubs and loungin'bars too like :The Q-bar (Pd), Caffè Pedrocchi(Pd), Drinking(Tv), Fifth Avenue(Vi), Godenda (Pd), Tahiri(Lignano Sabbiadoro Ud) Gellius(Oderzo Tv), Venexino(Pd) where he can play such good quality music mixed between many styles like house,deep and gospel house,nu jazz,bossa and such other cool music. He has been buyer for 7 years of a very well known record shop located in Vicenza.
Alberto started being a producer too with the nickname of Ghis.A and his first result was a song he has produced on 2002 with the contribution of Manuel Voltolina and the glamorous voice of Cheryl Porter called "Bad Groove".
His saw is:. "Good music never dies so play it !!!
For the love of the music.....for the love of the dance.......
Artist
Title
Label
Date

Price

1
DEETRON feat JUSTIN CHAPMAN

Let's Get Over It (remixes)

(12")

Music Man Belgium

13 Aug 08
$9.94
Cat:

MM 141R


Genre: Deep House
2
DJ YELLOW/ASTRID SURYANTO

Light On Me (remixes)

(12")

Project Recordings

11 Jul 08
$8.83
Cat:

PRO 013


Genre: Deep House
3
DJ SPEN/THE MUTHAFUNKAZ present MARC EVANS

Given Me Joy

(12")

Defected

17 Jun 08
$6.62
Cat:

DFTD 173


Genre: Funky/Club House
4
AFTERLIFE feat CATHY BATTISTESSA

Let It Go

(12")

Defected

07 Aug 08
$5.52
Cat:

DFTD 181


Genre: Funky/Club House
5
KINGS OF TOMORROW feat RAE

Can't Stop

(12")

Defected

30 May 08
$5.52
Cat:

DFTD 186


Genre: Funky/Club House
6
DJ FUDGE

Wally

(12")

KIF Music

24 Jun 08
$8.83
Cat:

KIFSA 054


Genre: Deep House
7
VAN GELDER, Nick

Choose Music

(CD)

BBE

04 Jul 08
$11.89
Cat:

BBECD 107


Genre: Disco/Nu-Disco
8
DOUGLAS, Teddy feat MARGARET GRACE

Watcha Gonna Do

(12")

Code Red

13 May 08
$8.83
Cat:

CODE 19


Genre: Funky/Club House
9
LEWIS, Jamie/VARIOUS

The Master Collection 5

(unmixed 2xCD)

Purple Music Switzerland

14 May 08
$17.68
Cat:

CLS 0001392


Genre: Funky/Club House

Jamie Lewis - "Unity" (Darkroom mix)
Anthony Romero - "I Won't Let You Go" (Sax club mix)
Jonathon Meyer - "Sunday Light" (feat June Grey - original mix)
Djaimin - "Change" (feat Crystal Reclear & Buddah Monk - Jamie Lewis Moody mix)
Yass - "I'm Free" (ftea LT Brown - main mix)
Alfred Azzetto - "Colors (Are Forever)" (feat Geneive Allen - Luca Cassani Green dub)
Panevino - "Freeze The Frame" (original mix)
H2O - "Living For The Future" (Panthera dub)
Medusa - "Medusa" (feat Leslie Carter - Kemal's main mix)
Cerrone - "Music Of Life" (Jamie Lewis remix)
Alfred Azzetto - "Near The Ocean" (Walterino main mix)
Jamie Lewis - "Body Music" (feat Keith Thompson - main mix)
Mike Monday - "I Dream Of Ducks" (extended mix)
Kemal - "City Street Walkin'" (feat Foxxee - main mix)
Anthony Romero - "My Home" (feat Jaze Knight - original mix)
Michelle Weeks - "The Light" (UBP remix)
D Collective - "Life" (feat Ceejay - instrumental)
Cerrone - "Hooked On You" (feat Jocelyn Brown - Jamie Lewis dub)
De Melero, DJ Pippi & Tuccillo - "El Amor Es Mas" (feat Conchita Pizarro - De Melero & Tuccillo's Ecsaleras Al Cielo remix)
Hifi Mike - "Stereo Flava" (Jamie Lewis reprise)

10

VARIOUS

Stereo Sushi Version 2

(unmixed 2xCD)

Stereo Sushi

08 Apr 08
$17.68
Cat:

STUSHCD 12


Genre: Funky/Club House

Joey Negro presents The Sunburst Band - "Rough Times" (Joey Negro club mix)
Elisabeth Troy - "Higher Ground" (classic mix)
Cookie Monsterz - "Lets Ride" (feat Maxine Braham - Soulful mix)
Fanatix - "Call On Me" (feat Sara Devine & Sterling Ensemble)
Ethan White & Lisa Shaw - "Find The Way" (Richard Earnshaw classic vocal)
Danism & Kenny Bobien - "Feelin You" (Groove Assassin remix)
Yogi & Husky - "It Feels Alright" (Miguel Migs Petalpusher rework)
Justin Michael & Secret Soul - "Celebration Of Music" (feat Gina Rene - original vocal mix)
Yolanda Wynn - "I Know You (I Love You)"
Christian Alvarez & Andy Lee presents Soulmates - "Always"
Kimara Lovelace - "When Can Our Love Begain" (Richard Earnshaw remix)
Aaron Ross - "Love Potion" (feat Gia Mellish)
Miguel Migs - "Let Me Be" (Petalpusher vocal mix)
Blaze - "Listen" (Roots vocal mix)
Lisa Mack - "Where Do We Go" (Spen & Thommy's Spiritually Sound vocal mix)
Jill Scott - "Hate On Me" (feat Mr V - Sole Channel remix)
Ralf Gum - "Kissing Strangers" (feat Monique Bingham - Feliciano vocal mix)
Ron Gelfer - "Your Beat Sounds Like" (feat Tiger Lily - Aaron Ross remix)
Studio Apartment - "The Rising Sun" (feat Blaze - MuthaFunkaz Sun Rising)
The Realm presents Darian - "One Step" (The Realm vocal mix)
Justin Michael - "Music High" (feat Donnie Romello - Spen & MuthaFunkaz vocal mix)
Wez Clarke & Maxine Hardcastle - "Another Chance" (feat The Lovely Laura On Sax - Richard Earnshaw mix)
Danism - "Mesmerise" (feat Haze - vocal mix)
Yass - "He Reigns" (feat Lt Brown - unreleased mix)