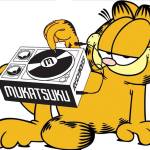 Mukatsuku 7 inch slipmats now in stock !!
Mukatsuku Records Chart
26-January-2015
latest Mukatsuku 45 out now and comes with EXCLUSIVE packaging and a free Mukatsuku button badge whilst stocks last !

New range of Mukatsuku slipmats in 7 inch and 12 inch sizes.

Juno copies of records come with exclusive kraft paper sleeve,Mukatsuku card jacket,sticker & signed insert

New Tote Bags in stock now with tags. Strong canvas bags and hold at least 40 x 12's...

Check out Juno for the worlds largest and cheapest selection of Mukatsuku vinyl only releases and merchandise.All 7 Mukatsuku 7 inches sold at Juno all come hand ink stamped in the new branded sleeve,kraft paper inner sleeve,plastic protective sleeve, sticker and signed insert only at Juno !

New single from Marcia Hines/ Jackie Wilson for Lost Soul & Funk Gems out now (MUKAT 031) whilst stocks last for £4.99
MUKAT Edits vol 7 whilst stocks last. Volumes 1,2,3,4,5,6 are sold out & deleted .

Also check out the juno exclusive Mukatsuku 45's plastic slipmat for playing dinked 45s. Comes with limited edition free dinked Mukatsuku 45 plus stickers..
http://bit.ly/IScdxq


Mukatsuku/GUYNAMUKAT slipmats,Exclusive Disc Stabilizers,bespoke wooden,plexiglass and metal adapters,Record bags for 45's,tote bags Exclusive to Juno !

dj schedule
2014

Feb 8th 2015 Out To Lunch Nottingham
Feb 21st South London Soul Train
Feb 28th Fuego at Corbets Place
March 21st South London Soul Train
March 28th Jazztronica at The Room Tokyo Japan
April 4th Rollin' Fukuoka Japan
April 18th South London Soul Train
May 27th DJ Support To Orlando Julius

https://www.facebook.com/mukatsuku
Artist
Title
Label
Date

Price

1
WGANDA KENYA/FRUKO Y SUS TESOS

Colombian Funk & Latin Gems 45 (warehouse find)

(7" in hand-stamped kraft paper inner sleeve + Juno exclusive branded jacket + sticker)

Mukatsuku

18 Jun 18
$5.51
Cat:

MUKAT 029


Genre: Funk
2

VARIOUS

The Brazilian Boogie Connection: From Rio To Sao Paulo 1976-1983

(gatefold 2xLP)

Cultures Of Soul US

25 Jan 15
$28.43
Cat:

COS 012LP


Genre: Disco/Nu-Disco

Marcos Valle - "A Paraiba Nao E Chicago" (4:38)
Marcos Valle - "Estrelar" (5:13)
Tarantulas - "Saiba Ser Feliz (Don't Stop 'Til You Get Enough)" (2:53)
Painel Del Controle - "Relax" (3:33)
Robson Robson - "Funk-Funk-La" (3:25)
Tim Maia - "Nao Va" (5:04)
Jorge Ben - "Rio Babilonia" (4:52)
Emilio Santiago - "O Amigo De Nova York" (4:09)
Band Black Rio - "Expresso Madureia" (4:04)
Cassiano - "Central Do Brazil" (3:38)
Sandra De Sa - "Olhos Coloridos" (4:24)
Tim Maia - "Verao Carioca" (1:55)
Robson Jorge & Lincoln Olivetti - "Aleluia" (3:55)

3
BO, Eddie

Hook & Sling Parts 1+2

(limited 7") (1 per customer)

Funky Delicacies US

27 Nov 14
$9.93
Cat:

DEL 450104


Genre: Funk
4
DJ LORD FUNK

Gangster Boogie

(limited 7")

Boogie Butt France

17 Dec 14
$9.93
Cat:

BBR 006


Genre: Disco/Nu-Disco
5
BLOOD SISTERS/NAIROBI SISTERS

Ring My Bell

(limited 7")

Ximeno Japan

12 Sep 14
$9.93
Cat:

X 05


Genre: Classics/Ska
6
FRANKLIN SMALLWOOD, George/MARSHMELLOW

Hey Mamma

(limited 7")

Peoples Potential Unlimited

23 Jan 15
$10.49
Cat:

PPU 4881


Genre: Disco/Nu-Disco
7
CHANDLER, Gene/BABY HUEY

In My Body's House

(7")

Originals

22 Jan 15
$8.00
Cat:

OG 025


Genre: Funk
8
MVP'S, The/MR DYNAMITE

Turning Your Heartbeat Up

(7")

Boot UK

22 Jan 15
$6.90
Cat:

MVP 101


Genre: Soul
9
CAMARGO, Ely/TRIO ESPERANCA

Taieiras

(limited 7")

Brazil 45s/Mr Bongo

19 Jan 15
$8.28
Cat:

BRZ 45018


Genre: International

Ely Camargo - "Taieiras"
Trio Esperanca - "Nao Aguento Voce"