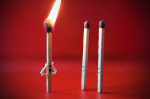 Kitchen Heat
Chef Napalm
20-May-2009
Chef Napalm loves records. CDs are OK and mp3s are fine for previewing records he might want to order, but the Chef only has enough love in his heart for records. From ABBA to Zappa, Moby to Madonna, he craves the comfortable crackle of delicious vinyl.

One day some friends asked Chef Napalm if they could borrow some of his precious records to play at their party.

And he said, "No."

They said "Please?"

And he said, "No."

So, they said "Aw, pleeeease."

Finally, he replied, "Alright, but I'll have to play them for you." They agreed and a good time was had by all. So, come and see him; he's really good.
Artist
Title
Label
Date

Price

1
POOLEY, Ian feat TIM FULLER

In Other Words Part 3

(12")

Pooled Music Germany

02 Apr 09
$8.84
Cat:

PLD 0196


Genre: Funky/Club House
2
INNER CITY

Big Fun

(12")

KMS US

01 Jan 90
$8.84
Cat:

KMS 015


Genre: Funky/Club House
3
DJ SNEAK vs HERVE

Droppin Kisses

(12")

CR2

26 Feb 09
$9.94
Cat:

12C2P 099


Genre: Funky/Club House
4
PET SHOP BOYS

Disco 3 (incl. remixes by Felix Da Housecat, Superchumbo, Westbam, Blank & Jones)

(3xLP)

Parlophone

03 Feb 03
$15.47
Cat:

5814581


Genre: Funky/Club House

London (Thee Radikal Blacklite mix)
London (Thee Radikal Blacklite dub)
London (WestBam In Berlin mix)
Time On My Hands
Sexy Northerner (Superchumbo mix)
Home And Dry (Blank & Jones mix)
Here (PSB new extended mix)
Here (PSB new extended dub)
Try It (I'm In Love With A Married Man)
If Looks Could Kill
Postive Role Model
Somebody Else's Business (extended mix)


5
SONO

Keep Control Plus

(12")

Kontor Germany

11 Mar 09
$8.84
Cat:

KONTOR 702


Genre: Electro House
6
EKKOHAUS/SPENCER PARKER

Learning To Fly

(12")

Liebe Detail Germany

04 Mar 09
$9.94
Cat:

LIEBE 026


Genre: Minimal/Tech House
7
DRAGOSH

Bea Part Of Me EP

(12")

Viva Music

02 Apr 09
$9.94
Cat:

VIVA 0246


Genre: Minimal/Tech House
8
NIFTY

Nifty Beats

(12")

Atlantic Jaxx

27 Nov 08
$6.08
Cat:

JAXX 044


Genre: Funky/Club House
9
SILICONE SOUL

The Pulse

(12")

Soma

27 Nov 08
$6.08
Cat:

SOMA 253


Genre: Minimal/Tech House
10
SIL

Windows

(12")

Tiger Germany

11 Feb 09
$8.84
Cat:

TIGER 99


Genre: Minimal/Tech House