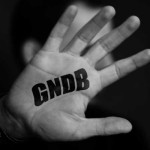 Groove On Wax
Nik North
02-April-2012
GNDB is French duet, based near Lille , In France.
This 2 Underground Dance music and vinyl lovers are supported Dj's since long time now.
Their Influences : Detroit, Chicago, New York , Glasgow , Berlin , But only Good music in every kind of style , from Deep house , Funk , Disco , Electro, Techno, ... .
GNNB already played in best underground club and bar between Lille , Belgium frontier, and Paris., together or separately.
With their demand for quality music and always looking for the groove, GDNB practice is to provide uncompromising DJ sets.
Play it loud !
Artist
Title
Label
Date

Price

1
FLOATING POINTS

Shadows

(double 12" in gatefold spot varnished sleeve)

Eglo

17 Nov 11
$15.20
Cat:

EGLO 022


Genre: Deep House
2
ROOTS PANORAMA

Threee

(12")

Versatile France

28 Sep 11
$8.83
Cat:

VER 074


Genre: Minimal/Tech House
3
HERVA

Skin EP

(12")

Bosconi Extra Virgin Italy

19 May 11
$7.73
Cat:

BOSCOEXV 07


Genre: Deep House
4
VLADISLAV DELAY as SISTOL/POLE

The SYNTH Remixes

(12")

Slices Of Life Germany

15 Oct 11
$8.29
Cat:

SOL 2


Genre: Minimal/Tech House
5
OCH

Whalesong

(12")

Trelik

21 Sep 11
$7.73
Cat:

TR 021


Genre: Minimal/Tech House
6
MIRANDA, Ricardo

102point7

(12")

Stilove4music US

30 Sep 11
$6.62
Cat:

STILOVE4MUSIC 033


Genre: Deep House
7
NILMMNS, Carlos

Subculture EP

(clear marbled vinyl 12")

Ornaments Germany

09 Nov 11
$11.00
Cat:

ORN 020


Genre: Deep House
8
ELBEE BAD

In The Sky

(limited 1-sided 12")

Yore Germany

31 Aug 11
$9.94
Cat:

YORE 005LTD


Genre: Deep House
9
GERD/ELBEE BAD

HOUSE

(12")

4 Lux Holland

30 Jun 11
$9.94
Cat:

4LUX 1104


Genre: Deep House
10
GERD

Palm Leaves (remixes)

(12" + free MP3 download code)

Clone Royal Holland

10 Nov 11
$8.83
Cat:

ROYAL 10R


Genre: Deep House
11
MOS aka AROY DEE

Lost Digits

(12")

Dolly

21 Mar 12
$8.83
Cat:

DOLLY 09


Genre: Techno
12
SMITH, Delano

An Odyssey

(gatefold 3xLP)

Sushitech

23 Feb 12
$34.82
Cat:

SUSH 017-3


Genre: Deep House
13
CAB DRIVERS/ALEXMAN/HOUSE PROUD PEOPLE/KZRC

Soulmates EP

(white vinyl 12")

Sharivari France

10 Feb 12
$8.83
Cat:

SHV 007


Genre: Deep House
14
SUBOTIC

Resonate EP

(12")

Sharivari France

04 May 11
$8.83
Cat:

SHV 005


Genre: Minimal/Tech House
15
WILSON, Jared

Let Your Body Make Your Body

(12")

Dolly

08 Jun 11
$9.94
Cat:

DOLLY 06


Genre: Techno
16
XDB

Recago EP

(12")

Dolly

16 Nov 11
$8.83
Cat:

DOLLY 08


Genre: Techno
17
FRANCOIS X

The Countdown EP

(12")

Deeply Rooted

21 Sep 11
$9.94
Cat:

DRH 036


Genre: Techno
18
ERIK & FIEDEL

Nous Sommes Mmm

(12")

MMM Germany

23 Feb 10
$9.94
Cat:

MMM 4/60283


Genre: Techno
19
DAVENPORT/DEUTSCHMANN

Trump

(12")

Falkplatz Limitiert Germany

29 Jan 11
$9.94
Cat:

FALKPLATZ 003


Genre: Minimal/Tech House
20
CAINE, Rocco

Cronrun EP

(12")

Cronlog Germany

17 May 11
$8.83
Cat:

CLOG 001


Genre: Minimal/Tech House
21
BOSCO, Roberto

Good Lover EP

(12")

Falkplatz Limitiert Germany

20 Aug 11
$8.83
Cat:

FALKPLATZ 05


Genre: Minimal/Tech House
22
PSYK

Throes

(12")

Figure Germany

27 Sep 10
$8.83
Cat:

FIGURE 0296


Genre: Techno