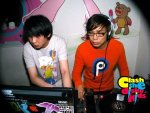 Kurt (Clash The Disko Kids)
22-May-2009
Clash The Disko Kids (CTDK) is a Singapore electro-techno-house trio consisting of
DJ Itchi, Kurt and Weili. Together as Clash The Disko Kids, they have been formidable
on the dance floors as Singapore's most popular electronic group. With over 15 years
turntable experience between them, and a blatant disregard for music genres,
they are known for incorporating a strong rock influence into their sets and image.

A CTDK set is like one big lesson in the history of electronic music in one
night. You can only expect a mural of sounds when CTDK go behind the decks.

The trio seemed to have emerged out of the concrete jungle and reinvented
the clubbing landscape in Singapore, putting their own sick twists towards
music such as adding samples, accapellas and sound fx to their DJ sets.

The result puts smiles on clubbers' faces and hands up in the air.
Artist
Title
Label
Date

Price

1
FERGIE

The Badness (mixes)

(12")

Excentric Music

15 May 09
$8.83
Cat:

EXM 016


Genre: Minimal/Tech House
2
MOTOR

Death Rave

(12")

Shitkatapult Germany

15 May 09
$11.05
Cat:

STRIKE 104


Genre: Techno
3
YO MAJESTY

Don't Let Go

(12")

Domino

14 May 09
$6.62
Cat:

RUG 308T


Genre: UK Garage
4
TIGA

What You Need

(12")

Different

12 May 09
$8.83
Cat:

451121 3130


Genre: Electro House
5
HUGG & PEPP

Maximus EP

(12")

Turbo Canada

19 May 09
$8.83
Cat:

TURBO 064


Genre: Electro House
6
ZOO BRAZIL/ADAM SKY

Circle Jerk

(12")

Turbo Canada

09 Apr 09
$8.83
Cat:

TURBO 063


Genre: Electro House
7
TIGA

Shoes

(12")

Different

28 Apr 09
$8.83
Cat:

4511216130


Genre: Electro House
8
JOE & WILL ASK?

Mongozo

(12")

Gulp

25 Mar 09
$7.73
Cat:

GULP 018


Genre: Electro House
9
DILEMN

The Dreamer

(12")

Future Perfect

19 Mar 09
$6.62
Cat:

FPRR 06


Genre: Breakbeat
10
GUY J

Shaman

(12")

Turbo Canada

18 Mar 09
$8.83
Cat:

TURBO 062


Genre: Electro House