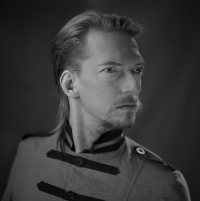 Sneaker DJ
10-November-2015
Sneaker has been on a mission to reveal the origins of electronic music for about twenty years now. Whether as a producer or DJ – Sneaker is doing it properly but always after careful consideration. He loves music which imparts atmosphere and attitude towards life, even in a parodyzing way that doesn't take it all – or itself – too serious.

Early on, he fell in love with Detroit and Chicago but furthermore there are the obscure italo-, new wave- and minimal-synth-gems that make his sets and 'Dunkeltier' edits (@sneaker-edits) special and provide his productions with that certain Sneaker-flavour.

In 2012 a remix of the 80s Belgian minimal synth band Twilight Ritual saw the light of the day on white vinyl on Madrid based Frigio Records, followed by another remix of industrial pioneers Esplendor Geométrico in 2013 and a total rework of Absolute Body Controls 'Tanzmusik' on the Dunkeltier Rising EP on the Macadam Mambo Edits label from Lyon.

The pricky bomb that is 'You Think You Think!' on Uncanny Valley Rec. has enriched the sets of Daniel Bell (DBX), Crème-head TLR, Cassius, Traxx and Deetron. It was featured on the FabricLive-CD of Daniel Avery. After the collaboration 'Heteronomous' on Jacob Korn's debut album (featured by Mano Le Tough in the Boiler Room and licensed to the Future 303 compilation) it was time for the single EP 'Java/Sumatra' in summer 2013 on Uncanny Valley. Specialiced on edits of dance (un-)classics he's one of the heads behind the new label Ratlife. As one third of 'Serial Error' along with Korn and Credit 00 he contributed the 'Our Beat Is Still New' series on 'Red D's We Play House label from Belgium. The year 2015 has seen an enormous output with EPs on ULM, Lunatic, Bahnsteig 23, Bordello A Parigi and Rat Life plus numerous contributions on vinyl.
Artist
Title
Label
Date

Price

1
WALL, The/THE STALLION

Fire

(12")

Prego

16 Oct 15
$12.14
Cat:

PREGO 002


Genre: Disco/Nu-Disco
2
LIQUID G

Liquidation

(LP)

Dark Entries US

05 Oct 15
$16.02
Cat:

DE 099


Genre: Electro
3
PSYCHICK WARRIORS OV GAIA

1989

(LP in screen-printed sleeve)

Sacred Summits

18 Aug 15
$18.50
Cat:

SS 004


Genre: Techno
4
SNEAKER

Meet The Heat EP

(12")

U L M Germany

09 Sep 15
$8.56
Cat:

ULM 002


Genre: Techno
5

VARIOUS

Concept 1210

(LP + grey vinyl 10")

June Germany

25 Nov 15
$18.50
Cat:

JUNE 09


Genre: Coldwave/Synth
6
MAZZOCCHETTI, Maoupa

Untitled

(12")

Mannequin Germany

28 Oct 15
$11.60
Cat:

MNQ 078


Genre: Electro
7
MISS KITTIN/THE HACKER

Lost Tracks Vol 1

(12")

Dark Entries US

30 Jul 15
$13.81
Cat:

DE 098


Genre: Electro
8
DJ OCTOPUS

Hangover

(12")

Hot Haus

08 Sep 15
$8.56
Cat:

HOTSHIT 019


Genre: Deep House
9
MANIE SANS DELIRE aka JUNE/TRENTON CHASE

Manie Sans Delire

(limited 12")

June Germany

23 Sep 15
$8.83
Cat:

JUNE 08


Genre: Electro
10
LEIBIZ/CREDIT 00

Basement Toolz Vol II

(12")

Rat Life

16 Sep 15
$9.39
Cat:

RAT 05


Genre: Techno
11
SNEAKER

Holistical EP

(hand-numbered 12" limited to 300 copies)

Lunatic

08 Jun 15
$10.22
Cat:

LUN 04


Genre: Techno
12
NOCE, Andrea/DAVID KRISTIAN

Be In Sync

(12")

Macadam Mambo

19 Nov 15
$12.43
Cat:

MMLP 202


Genre: Experimental/Electronic
13
MORI RA

Sleeping Industry

(12")

Macadam Mambo

15 Sep 15
$10.49
Cat:

MME 7007


Genre: Disco/Nu-Disco
14
KAMM, George

Durst & Hunger

(12")

Macadam Mambo

21 Jul 15
$10.77
Cat:

MME 6006


Genre: Disco/Nu-Disco
15
MAZZOCCHETTI, Maoupa

14 07 A

(green vinyl 7")

PRR! PRR!

05 Aug 15
$8.83
Cat:

PRR 001


Genre: Techno
16
NOUVELLE PHENOMENE

Cruel Game

(12")

Bordello A Parigi Holland

07 Oct 15
$10.77
Cat:

BAP 054


Genre: Disco/Nu-Disco
17
DUNKELTIER

BAH026

(140 gram vinyl 12")

Bahnsteig 23

20 Jul 16
$8.83
Cat:

BAH 026


Genre: Disco/Nu-Disco