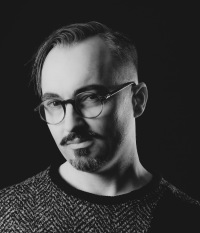 October 2016 Chart
Owen Ezard (Shara Music)
08-October-2016
Baan Means House Present Owen Ezard (Shara Music)
Club: Whiteline
Date: Friday 14 October 2016 22:00 - 04:00
Venue: Silom Soi 8,
Bangkok, 10500
Thailand.

Barcelona is coming to town. Home of SONAR, home of John Talabot, home of Hivern and certainly, home of a very unique sound... Owen Ezard a driver of Barcelona's scene with his label Shara Music is the 2nd invitee to Baan means House.

Lets talk about sound then. This is highly subjective but Barcelona and Owen stands for a highly funky form of Techno. Detroit is one of the few places where Techno can be found that is rooted in Soul and Funk. Barcelona might be a second place. Percussions are always present, grooves and patterns that have their orgins in black music... Highly addictiv, highly danceable and pure fun.

Moreno on supporting duties.

House Means House.
Artist
Title
Label
Date

Price

1
QUENTIN

Mirage: Limited Velvet Edition

(limited 12")

Hivern Disc Spain

01 Jan 70
$16.30
Cat:

HVN 037LTD


Genre: Deep House
2
SFIRE

Remixes

(140 gram vinyl 12")

(Emotional) Especial

08 Aug 16
$9.94
Cat:

EES023/CDA013


Genre: Disco/Nu-Disco
3
CLARISTIDGE, Andrew/LEONARD DE LEONARD

Increase The Dosage

(gold vinyl 12")

Nightnoise Holland

07 Oct 16
$8.83
Cat:

NIGHTNOISE 002


Genre: Disco/Nu-Disco
4
RODION/MIJO

El Futuro

(140 gram vinyl 12")

Shara Music

25 Jul 16
$8.83
Cat:

SHM 001


Genre: Deep House
5
MOSCOMAN

A Shot In The Light

(2xLP)

ESP Institute

23 Sep 16
$17.41
Cat:

ESP 033


Genre: Deep House
6
MAN POWER

Tachyon

(12")

Me Me Me

10 Oct 16
$8.83
Cat:

MMM 001


Genre: Deep House
7
VEIMAR, Dimitri

Lazy Trance EP

(12")

Renate Schallplatten Germany

15 Sep 16
$9.94
Cat:

RS 05


Genre: Minimal/Tech House
8
ESS O ESS

Flamingos & Wombles & The Blue Oyster Cult

(140 gram vinyl 12")

Not An Animal

28 Nov 16
$8.83
Cat:

NAAR 006


Genre: Disco/Nu-Disco
9
KUSUMA, Jonathan

Automatone

(12")

I'm A Cliche France

23 Sep 16
$11.04
Cat:

CLICHE 065


Genre: Disco/Nu-Disco
10
A JOKERS BIZARRE

Bedroom Square

(12")

Rotten City

22 Apr 16
$11.88
Cat:

RCR 002


Genre: Deep House