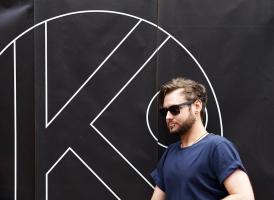 2017 Amalgamation Chart
Oberon Night-East
04-January-2018
An amalgamation of the music which has caught my attention and fuelled my progression into my taste as of today.

Find a trove of selections I've dug up over the last twelve months which have featured within my live performances as well help sculpt the direction of our record label; Kaio Records.

More to refine and deliver in '18.
Artist
Title
Label
Date

Price

1
BEAT PHARMACY/TOMAS RUBECK/FEDERSEN/ALESSANDRO CRIMI

Fifth Interval

(12")

Fifth Interval

09 Mar 17
$7.18
Cat:

FIFTH 004


Genre: Techno
2
KONRAD BLACK/KAMRAN SADEGHI/DEWALTA

Family Jubilee II: Part 3 Of 3

(heavyweight vinyl 12")

Meander Germany

26 Jul 17
$9.67
Cat:

MEANDER 0203


Genre: Minimal/Tech House
3
DEWALTA

Dark Matter EP

(heavyweight vinyl double 12")

Amphia Romania

27 Jun 17
$23.76
Cat:

AMP 013


Genre: Minimal/Tech House
4
DIMAS, John

Multiverse

(12")

Raum Musik Germany

27 Oct 16
$9.40
Cat:

MUSIK 099


Genre: Minimal/Tech House
5
DJACKONDA, Andrey

Inspiratie EP

(12")

Conceptual Netherlands

20 Jan 17
$10.78
Cat:

CPLV 02


Genre: Minimal/Tech House
6
MATO

Steadybear EP

(12")

Sukhumvit

11 Nov 16
$9.94
Cat:

SOI 005


Genre: Minimal/Tech House
7
NOHA

Eterno Ritorno EP

(12")

Nilla Hungary

02 Jun 17
$11.88
Cat:

NILLA 011


Genre: Minimal/Tech House
8
NEKTAR AGU/LOXIQUE/ALAN CASTRO/BACIR

Daydreaming One

(12")

Rotur Italy

28 Oct 16
$10.78
Cat:

RTR 001


Genre: Minimal/Tech House
9
ALEX TEA/MARTIN M/PETAR CVETKOVIC/PESTO QUINTY/ANATOLKIN

Mumbleltd003

(limited blue vinyl 12")

Mumble LTD

10 Dec 15
$10.50
Cat:

MUMBLELTD 003


Genre: Minimal/Tech House
10
RANDALL M/SCOTT KEMP/FERNANDO COSTANTINI/ALEXANDAR KYOSEV/CHAD ANDREW

Karton Music Group 1

(12")

Karton Music Group Holland

06 Nov 12
$9.67
Cat:

KRTNV 001


Genre: Minimal/Tech House