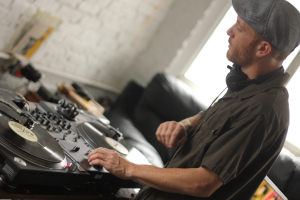 F.U.N.K.
Professor Shorthair
16-April-2015
Professor Shorthair aka DJ Yamin is a New Orleans based DJ/Producer known for his wide-ranging musical styles including Hip-Hop, Funk, Reggae, Afro-Beat, Latin and more. Along side DJ Moosaka, he released "5 Finger Breaks V.1" on Revolutionary Records and co-hosted a highly successful radio show entitled "The Grooveyard" on WMFO. His new vinyl release (7") on Superjock Records features remixes of New Orleans Funk musicians Mary Jane Hooper & Inell Young.

He has performed along side such artists as Damian "Jr. Gong" Marley, DJ Rob Swift, Del The Funky Homosapien, The Violent Femmes, Edan, Cosmo Baker, Soul Clap, J-Boogie, Lyrics Born, Soul Rebels Brass Band and more...

He currently teaches a youth DJ and Production class called NOLA MIX

www.nolamix.com/

https://nolamix.com
Artist
Title
Label
Date

Price

1
DR JOHN/RUEBEN BELL

Nola Breaks 2

(limited blue marbled vinyl 7")

Superjock US

18 Mar 15
$8.52
Cat:

SJ 102


Genre: Funk
2
SHARP, Jim

Rubber Band

(7")

Dusty Donuts

31 Mar 15
$8.24
Cat:

DD 003JIM


Genre: Hip Hop/R&B
3
MYRON & E

Do It Do It Disco

(limited 12")

Stones Throw US

08 Jul 14
$10.98
Cat:

STH 2339


Genre: Disco/Nu-Disco
4
ERIC B & RAKIM/BILLY COBHAM

Juice (Know The Ledge)

(7")

5 Borough Breaks

24 Mar 15
$8.78
Cat:

5BB 002


Genre: Hip Hop/R&B
5
KON/AMIR/DJ MURO/VARIOUS

The Kings Of Diggin

(2xLP)

BBE

06 Jul 06
$10.98
Cat:

RR 0061LP/RARCLPD 61


Genre: Funk

Ray & His Court - "Soul Freedom"
Janet Dubois - "Queen Of The Highway" (Kon's Kondensed edit)
Matthew Larkin Cassell - "In My Life"
Cocody's Men - "Shako"
Ted Curson & Company - "Spiderlegs"
Count Buffalo & His Rock Band - "Soul Limbo"
Master Story Teller - "Pay Pay Pay" (Kon edit)
Soseme Makonde - "Manzara" (Kon edit)
Harmony Cats - "Cat's Theme" (Kon edit)
The Bob Crew Generation - "Menage A Trois"
The La-Mars - "Kool Is Back"
The Dome City Rock Orchestra - "Quiet Village" (Parts 1 & 2)

6
J ROCC

Funky President Edits Vol 1

(limited 7")

J Rocc US

12 Aug 15
$11.54
Cat:

JRC 7001


Genre: Funk
7
JOHNSON, Ginger & HIS AFRICAN MESSENGERS

I Jool Omo

(limited 7")

Freestyle

09 Apr 15
$5.77
Cat:

FSR 7084


Genre: International
8
KOMUSO ROOTS

East Of The River Nile

(7" in hand-stamped sleeve)

Ghetto Lounge

09 Apr 15
$7.42
Cat:

GLR 07003


Genre: Classics/Ska
9
STANT, Barbara

My Mind Holds On To Yesterday

(7")

Record Shack Austria

09 Apr 15
$8.24
Cat:

RS 45011


Genre: Soul
10
DJ SPINNA/BOBBITO/VARIOUS

The Wonder Of Stevie: Melody Man

(2xLP)

Harmless

14 Jul 04
$16.47
Cat:

HURTLP 055


Genre: Funk

Minne Ripperton - "Perfect Angel"
The Spinners - "It's A Shame"
Jermaine Jackson - "Let's Get Serious"
The Pointer Sisters - "Bring Your Sweet Stuff Home To Me"
Smokey Robinson - "Melody Man"
Carl Carlton - "Signed, Sealed, Delivered"
Quincy Jones feat Patti Austin - "Betcha Wouldn't Hurt Me"
The Four Tops - "Loving You Is Sweeter Than Ever"
Smokey Robinson & The Miracles - "Tears Of A Clown"
Joe Farrell - "Too High"